Westonbirt Magazine
Autumn 2017
A hidden gem in Gloucestershire
Never been? Supporter Engagement Manager, Catherine gives you a glimpse of what to expect from her recent visit.
I'd been looking forward to visiting Batsford Arboretum for a long time. With its oriental influence and man-made watercourse, it couldn't be more different from Westonbirt's natural vistas. I was anticipating a magical journey to the Far East, and wasn't disappointed!

---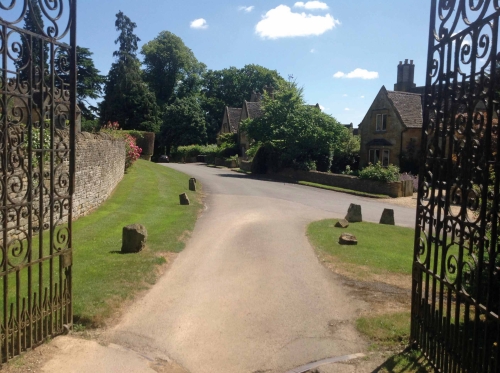 It was a bright warm day with plenty of sunshine, and I set off on a gentle stroll along 'Her Ladyships Walk.' I was greeted by fabulous flowering alliums, including 'Purple Sensation' and the wonderfully named white-headed 'Mount Everest.' Crossing over rockery bridge, I caught the first sight of a brook flowing through Jurassic-like foliage. This was my first of many sightings of water throughout the site.
I decided to go a little off the main track and wandered into a wide vista of a manicured lawn, which was surrounded by a selection of enchanting trees, including 'the Weeping Spruce' and 'Japanese Maple.' From here, I could glimpse the neo-Tudor Batsford House, an extraordinary Victorian design built in the 1890's.
Back onto the main path I turned a slight bend, which brought into view the formidable neo-Norman gothic church of St Mary's, sitting on the edge of Batsford village. I'd come for the trees, but was also getting a fascinating architectural tour.
Strolling back, I spotted the majestic 'Purple Beech' with its huge clawed roots digging into the soil. Throughout, there were meandering paths leadin to hidden delights, including a field of wild flowers with drifts of 'Camassias' nestling close to a stunning Italian marble sculpture 'Daphne.'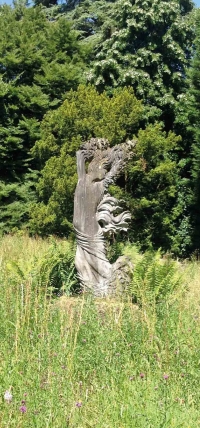 The estate has 60 acres of grounds
Around 3,000 plants grow in the garden
The arboretum has 10 champion trees
"I wandered past a sprawling 'Evergreen Oak' and a 'Butternut' tree and found myself in a spot that I can only describe as something from Tolkein, with a fairy glade waterfall cascading into the large lake."
---
At every turn, there was evidence of the Asian influence, with red bridges crossing water, and a fine collection of Japanese Maples and Bamboo. There were statues of an Oriental Foo Dog and Buddha, and for the weary, there is the chance to relax at the 'Japanese Rest House,' with its own rooftop dragon – apparently there to ward off evil spirits.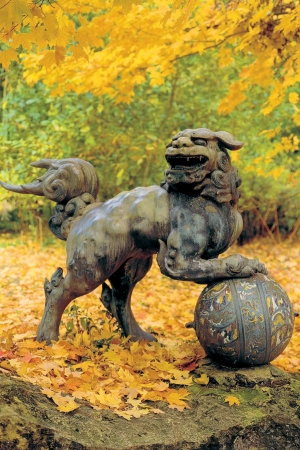 My visit to Batsford really was magical. As a recognised centre for botanical excellence, it houses over 1,300 different species from throughout the temperate world, including several champion trees. There are surprises at every turn, and for the younger visitor the newly developed play area houses endangered bird life such as 'Coco' the African Grey Parrot and interesting information on the importance of trees to the environment.
I'd thoroughly recommend Batsford Arboretum for a day out.
Membership as a Friend of Westobirt Arboretum provides free entry to Batsford and several other gardens and arboretums in the UK.
Membership is a lovely gift for a friend or loved one, find out more.








---


Enjoyed the latest magazine? Make a donation to support our vital work!