Westonbirt Magazine
Autumn 2017
STIHL is the No.1 selling petrol chainsaw brand worldwide and is renowned for its revolutionary outdoor power equipment.
To this day it remains a family-owned business based in Germany. STIHL employs more than 14,000 staff worldwide and sells products in more than 160 countries.
The company started out in 1926 as one man with a vision and last year celebrated its 90th anniversary. Andreas Stihl started the brand with an engineering office near Stuttgart, his pioneering idea was that "the saw must go to the tree, not the tree to the saw." He imagined a petrol-powered chainsaw, with which trees could be felled and bucked directly in the woods rather than being carried to a stationary saw – which was an incredibly laborious and arduous task.

---
It wasn't long before one of the first petrol-driven two-man STIHL chainsaws had been developed and in the years that followed, STIHL began regularly launching new and better models.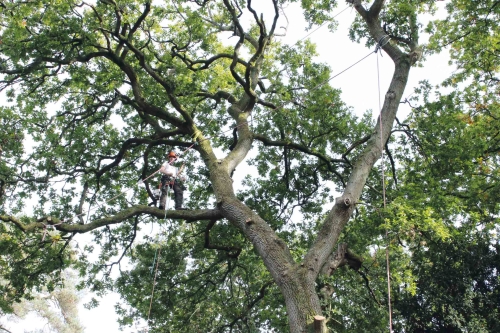 In 1959 Andreas Stihl achieved his lifelong vision and the STIHL Contra was launched to market. This gasoline-powered chainsaw weighed 12 kg and offered a power output of 6 HP, which was much lighter and more efficient than any other product on the market at the time. Using the Contra, logging firms were able to increase their productivity by 200% and STIHL recorded double digit turnover growth.
In the years thereafter, STIHL began to venture into the development of other products, including hedge trimmers, grass trimmers and pressure washers. As such, the STIHL name has become internationally known and is now a recognised mark of quality across all gardening tools. STIHL products are now exported to neighbouring European countries and across 160 countries worldwide.
---
Innovation has always been integral to the STIHL brand and ensures it stays up-to-date with current customer needs and demands. This innovation fuelled the development of high performance cordless machinery, resulting in manufacturing three collections of cordless tools - Lithium-Ion, Lithium-Ion Compact and Lithium-Ion Pro. Each offers the customers a solution for everything from smaller gardens, larger outdoor spaces and right through to the largest gardens and professional applications.

In 2016, STIHL became proud sponsors of the Westonbirt Treetop Walkway. This innovative structure offers spectacular views of the arboretum's 15,000 trees to all of its visitors and the inclusion of seven interactive hotspots gives visitors the chance to learn about the beautiful surroundings.

STIHL understands how important it is for everyone to have the right tools for the job, which is why working with the Tree Team at Westonbirt Arboretum makes perfect sense. Each member of the team can have the equipment they need to be able to maintain the arboretum all year round.
Enjoyed the latest magazine? Make a donation to support our vital work!