Westonbirt Magazine
Features
Westonbirt's autumn magnificence is provided by trees from all over the temperate world. Some of these regions are home to large numbers of plants that come to the fore at this time of year. One of these is eastern North America.
Growing in varied and sometimes strikingly different habitats in their native surroundings, a great many thrive here at Westonbirt. Many plants from North America have been grown in Britain for centuries and while some are almost as familiar as our natives, others are less so.

---
Tupelo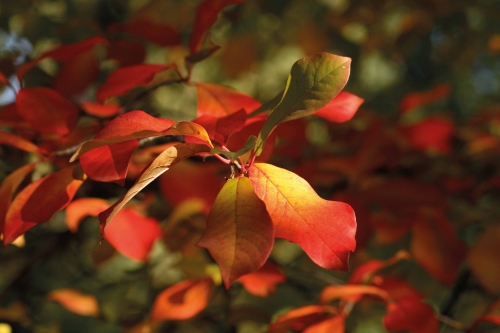 The tupelo (Nyssa sylvatica) is special in more ways than one. At its peak its autumn colour is among the very best, with vibrant shades of orange burning bright in the landscape. Its scientific name, Nyssa sylvatica, roughly translates as 'nymph goddess of the woods'. A fitting name for such a beautiful tree. A small genus of around 10 species, with about four found in eastern North America. The water tupelo (N. aquatica) is another of these, though as the scientific name suggests, it occurs in rather different areas to tupelo. It grows in swamps and develops a remarkable swollen base. Though most apparent on large trees, the swollen base can be seen on young trees here, planted in 2010.
---
Sweet gum
Another lover of swamps is sweet gum (Liquidambar styraciflua). Known by some as the 'traffic light tree', it often colours from the top down, in three distinct bands of colour. Often beginning to change as early as August, there can be shades of red-purple at the top, orange-yellow in the middle while still green towards the bottom. It has a broad range, extending south from north east USA to Central America, with trees at Westonbirt collected from Georgia, Tennessee and West Virginia.
---

Tulip tree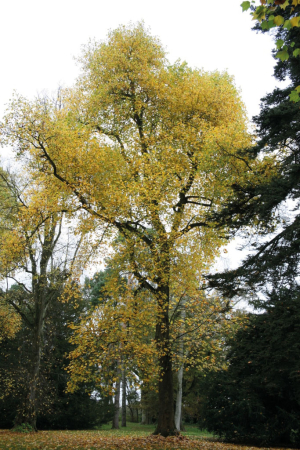 John Tradescant the younger is accredited with introduction of the tulip tree (Liriodendron tulipifera), which has been in cultivation since before 1888. In nature, it grows (where given the chance) to a monumental size, with stems clear of branches to around 80 feet up. Nearly as tall as our tallest specimens! The butter yellow leaves of those on Jackson Avenue are distinctive from afar and numerous younger trees are dotted around the arboretum from seed collected by Forestry Commission colleagues at Bedgebury Pinetum in 2006.
---
Sugar maple
Striking though short-lived, the colour of the sugar maple (Acer saccharum) visible from the STIHL Treetop Walkway has definite shades of bonfire about it. Known as much for its autumn display as for its syrup, it doesn't colour quite as well as it does at home in Canada. Though for the short period that it is at its peak, it is still rather impressive!
---
Birch
A number of birches are known for their autumn colour and two of the species from eastern north America are among the finest. The yellow birch (Betula alleghaniensis) and the cherry birch (B. lenta) are equally fine, both turning vibrant yellows. The two have overlapping ranges, though the yellow birch occurs at higher elevations. Our best of both grow along The Link, in Silkwood.
---
Hickory
And always worth mentioning are the hickories (Carya species). Reliable as any for autumn colour, they too turn fantastic yellows. A real crowd pleaser is the large, narrow growing bitternut (C. cordiformis) in what was the Hickory Collection on Broad Drive. Equally good is its close relative the black walnut (Juglans nigra), with large trees recently supplemented with young plants collected from the wilds of the Midwest (almost east!) in Illinois and Missouri.
---
You can find our autumn seasonal trail map here. Don't forget to take it with you. Discover the expert's seasonal picks on your next visit!




Enjoyed the latest magazine? Make a donation to support our vital work!