Westonbirt Magazine
More Features
This calls for a range of vehicles and equipment specially tailored to our needs, the likes of which can only be found in a few places in the world.
Low ground pressure, good manoeuvrability, and good visibility are some of the criteria our machines need to meet; read on if you'd like to know more about our impressive vehicles.
---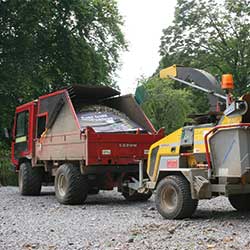 Schliesing 235 MX wood chipper
Usually seen towed behind the Caron, the Schliesing wood chippers make short work of any branches too small for firewood, turning them into woodchip which we pasteurise and then use as mulch for our trees.

Engine: 35hp

Max branch size: 19cm diameter

Weight: 1.25 tonnes

Special features: Hydraulic chip size adjustment of 5–25mm, twin hydraulic feed rollers, noise and wear reducing Whisper-cut blades
---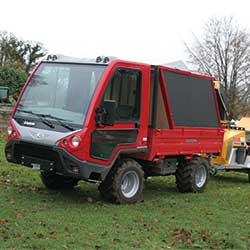 Caron Utility Vehicle
The Caron is a multi-purpose load-lugger, used to pull the Schliesing wood chippers and carry logs and woodchip.

Carrying capacity: 3.2 tonnes

Carrying volume: Approx 3.8 cubic metres

No. of gears: 24

Special features: 3-way tipper body, forward-tipping cab for easy maintenance, low ground pressure tyres
---
Vermeer SC602 stump cutter
Towed from stump to stump behind our Aebi, the Vermeer grinds even the largest tree stump into tiny pieces. After a couple of years the torn up stump decomposes and we can plant a young tree in its place.

Engine: Caterpillar 60hp

Weight: 1.4 tonnes

Cutter max: RPM 1080

No. of teeth: 30

Special features: Hydraulic towbar extends to operate 1.6m from towing vehicle. Can cut stumps as high as 61cm above ground, and 48cm below ground
---
Scanlift 190 SL Mobile Elevated Work Platform (MEWP)
When climbing a tree isn't safe or practical the MEWP comes into its own; it's great for Yew pruning where we only cut small amounts off the end of branches.

Working height: 19m

Weight: 3.1 tonnes

Platform capacity: 230kg

Special features: 360 degree turret, 3 steering modes (2 wheel, 4 wheel and crab steer)
---
John Deere 6210
Our tractor does all the big jobs the smaller machines can't manage; from pulling tree trunks on a log carriage to unloading deliveries of compost from the back of lorries.

Engine: 4.5L 90hp 383Nm torque

No. of gears: 48

Rear lift: 2.1 tonnes

Ground clearance: 58cm

Special features: Loader lifts 1.3 tonnes to a height of 3.85m, good all round visibility, good manoeuvrability for size
---
Terratrac Aebi TT75
The Aebi is an alpine tractor with a low centre of gravity and wide tyres giving unparalleled stability. With its tight turning circle and a flail mower on the front 3-point linkage it's the perfect tool for cutting long grass round cages and between trees.

Height: 2.2m

Weight: 1.6 tonnes

Front/rear lift: 1.2 tonnes/1 tonne

Turning circle: 2.9m

Special features: 4 wheel steer gives excellent manoeuvrability, versatile machine with multiple attachments front and back, very low ground pressure
---
Enjoyed the latest magazine? Make a donation to support our vital work!