Westonbirt Magazine
More Features
The Westonbirt Wood Project
Once a cattle shed and holding pen, Westonbirt's Wood Centre is a prominent feature within the arboretum landscape.
Having received planning permission, over the next two years we will be restoring this magnificent heritage structure to provide craft workshops, timber and handmade furniture to help support the arboretum.
The first step is to purchase a mobile sawmill for our timber. We will then be erecting two timber-framed barns – one to house the sawmill and the other for drying and storing timber. We will also restore the existing building by reinstating the stone roof.
These new facilities will be of great benefit to Westonbirt Arboretum, allowing us to mill, store and sell Westonbirt wood. The public will be able to buy unique pieces of good quality Westonbirt timber and furniture in the shop, take part in pre-booked craft workshops and learn about traditional crafts at the demonstration area.
---
Gazing out from the Treetop Walkway, the viewer will see this space transformed into a hub of activity.
---
Our wood centre completes the natural cycle of the arboretum. Our Forestry Team manages the woodlands to allow new growth to come through, cut sources of renewable timber and shape our landscape. The Westonbirt wood centre enables us to make good use of our renewable timber resources and helps to sustain the work of the arboretum.

The new centre will showcase the lifecycle of trees at Westonbirt – from tiny seed, to magnificent specimen, to bespoke craft and construction material.
---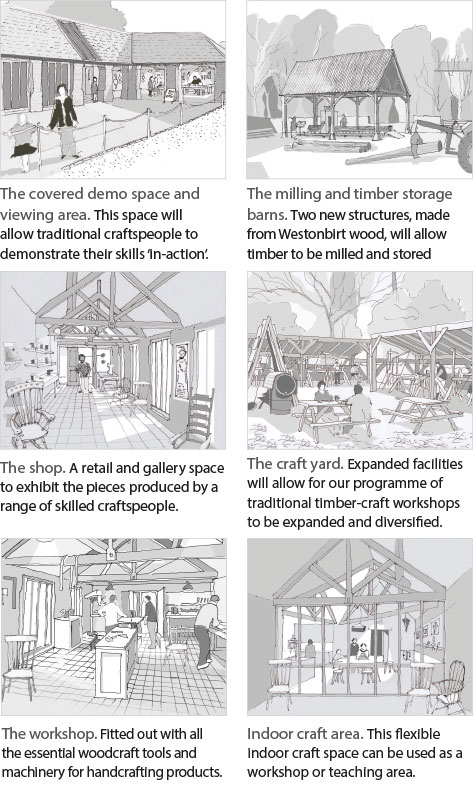 ---
This whole project sets out to promote a better understanding of trees and the qualities of different types of timber in the production of products.
Please help us to make this incredible project a reality by making a donation. To find out more click here, or you can call one of our fundraising team on 0300 067 3303. THANK YOU!
Enjoyed the latest magazine? Make a donation to support our vital work!