Over 100 wonderful supporters raised funds for Westonbirt and its trees. Their efforts are still ongoing, but so far over £10,000 has been raised for the charity – easily beating the total raised in previous years!
There was a fantastic mix of seasoned athletes, casual competitors, and 10k newbies, all with bucket loads of enthusiasm! In their bright green 'Run for the Trees' t-shirts, our dedicated fundraisers couldn't be missed. Every one of them did a wonderful job of supporting the arboretum.
Spotlight on: Mother and daughter team, Liz and Zoe
Three years ago, Liz bought membership with Friends of Westonbirt, and she hasn't looked back since! Her weight loss journey began with walks around Westonbirt. After a while she started bringing her husband and daughter along,visiting more often and taking longer walks.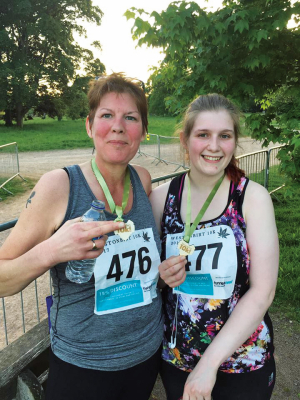 "Every visit we found a different route, discovered interesting wood sculptures and different views throughout the seasons to keep each walk unique."
Between them Liz and Zoe have lost eight and a half stone. This brilliant achievement inspired Zoe to suggest to her mum that they take part in their first 10k at Westonbirt. After lots of training, they have accomplished something they could never have imagined. Not only did they complete the Westonbirt 10k, but raised money to support the 10k, but raised money to support the arboretum in the process! We're so pleased for Liz and Zoe and we're thrilled that Westonbirt Arboretum has helped them along the way.
There are so many ways to fundraise for the arboretum. So whether you'd like to run, bake cakes, or hold a coffee morning, visit our fundraising page to find out how you can make a difference.
To register your interest in becoming a fundraiser in next year's race, head here.

Enjoyed the latest magazine? Make a donation to support our vital work!