Westonbirt Magazine
Winter 2017

We are very fortunate that this practice still continues today, allowing our many visitors to witness first hand all that is involved in these traditional operations.
The production of charcoal has long been an important end process to this traditional management, and I am pleased to say that this still goes on today, and can even be witnessed from time to time at the end of the STIHL treetop walkway in Silk Wood.
Unfortunately, the two existing metal ring kilns, which we allow our resident coppice workers to use, were inherited, and are now very old and in poor condition. Thankfully the Friends of Westonbirt have agreed to fund the purchase of a brand new, state-of-the-art kiln to ensure that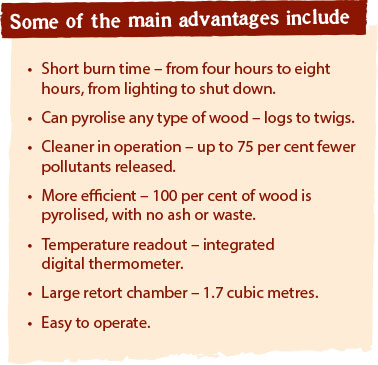 this activity can continue. At the time of writing, we are awaiting delivery and installation of an Exeter Retort Kiln, which you may have seen demonstrated live at the Arb Show here in May.

The Exeter Retort kiln produces high quality barbecue charcoal and biochar in a fraction of the time taken by traditional ring kilns. Environmentally, the retort releases approximately. 75 per cent fewer pollutants to the atmosphere than ring kilns.
---
The definition of charcoal: A black, porous, carbonaceous material, 85 to 98 per cent carbon, produced by the destructive distillation of wood and used as a fuel, filter, and adsorbent.
---
Enjoyed the latest magazine? Make a donation to support our vital work!