Virtual Gifts: Winter wonderland (pack of 5)
This pack includes 5 identical cards.
Please select 'Send it yourself' when choosing a sending option.
Last date for delivery before Christmas: 13 December 2018
---





---

Westonbirt Arboretum provides a truly unique environment for visitors to learn about trees, the environment and their role in the natural world.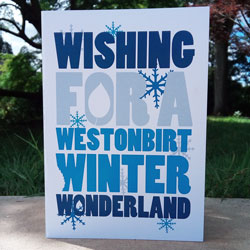 The work taking place at Westonbirt extends far beyond the reaches of the arboretum. Seed collecting research trips are a vital aspect of our work to safeguard forests and woodlands.

Not only do trees protect our environment, but getting out into nature is vital for our well-being. Community programmes help to give disadvantaged members of our community access to nature.
These cards are a great way to give something back to nature, supporting Westonbirt's trees ensures they receive the best care and are able to thrive.
All funds raised from this product will go to support Westonbirt Arboretum.
Back to Virtual Gifts >>
Sending a Card
Give a gift that supports Westonbirt and see the power of giving in-action.
There are two ways to share your gift, so please select the one you want to use from your shopping basket.
1: We'll post a card direct: Send a personalised card directly to the recipient with your message included (please note this option is not available for Christmas card packs)

2: Send it yourself: We'll post the card or pack directly to you for you to write your own message before you send it on to the recipient
Shopping Basket

0