Thank you for helping protect our trees
Thanks to your generous contributions and continued support through membership the Quarantine House is now fully funded.
This structure will drastically boost our biosecurity as it will be a specialist and purpose-built facility, allowing us to constantly monitor and regularly inspect all new plants and seeds, providing protection from disease and pests which could destroy our trees.
We incredibly grateful to you for doing so much to protect our glorious trees for future generations and we're looking forward to sharing the build phase with you soon.
Look out for project build updates on our blog...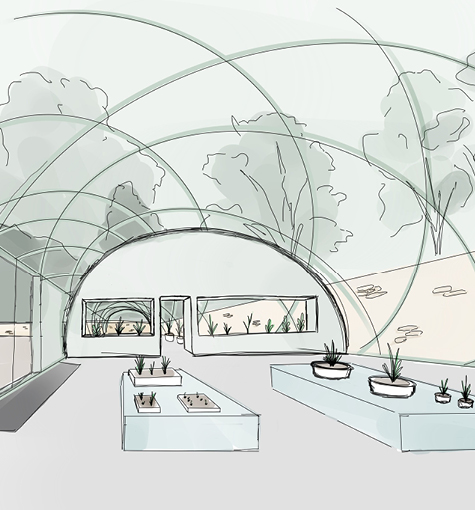 Donor Appreciation
Your gift has made a huge difference to our project - thank you.
Banister Charitable Trust
Finnis Scott Foundation
Foxley Road Nurseries
Stanley Smith (UK) Horticultural Trust
N R Aker
Graham Allnatt
Thomas P Ashenden
Jenny A Barnett
Jennifer Best
Sally Bexton
Rob Bick
Joanna Borrett
Janet K Bowers-Broadbent
Sue E Bradley-Jones
Muriel K Brooke
Thomas N Brown
Angela R Buckell
Robin Campbell
Roy F Carey
Peter J Carpenter
Margaret Cheese
Carol Clarke
David Clarke
Deborah H Clogg
Christine M Cole
Jo Cox
Cathelijne Cuellar
Keith D Cuthbert
Jacqueline Dalton
Patricia Davies
Diana P Davies
Brian Dejean
Vivien M Donkersley
Jim Druett
Janet Duffy
Mary Durell
Janice Eades
Nigel J Edwards
James Edwards
Shirley Elder
Andrew Evans
Keith Faraday
Geoffrey Fitch
Alison Flint
Dee Gardner
Alan Garner
Paul Gibson
Susan Grazebrook
Clive Greaves
Neil Grecian
Martin J Green
Arthur J Gregory
Edward Greves
Robert J Harding
Roland L Harley
Evelyn Harlow
Muriel Harrison
Ian J Harvey
Carollyne Haynes
Margaret B Headen
Brian Heath
Rachel C Hemming
John Hobday
Maureen Horscroft
Andrew J Howe
J N Hughes
Alan Hunt
Mark R Ingram
Clive Jefferies
Pamela Kellett
Alan R Kempton
John E Kendall
Jane L Kimpton
Jeffrey Lacey
Michael J Latham
M Leggett
Rosemary Levett
Joan Lilly
Margaret E Lloyd
Jinny J Marshall
Karen H McKeown
Eileen Menzies
Christine Menzies
Susan Middleton
Stephen R Montgomery
D Moray
Allan Peter P Moss
Tim J Mugford
Margaret Muttram
Janet Newby
David Penn
Grace Pownall
Ian Rea
Gillian M Rodger
Lesley Rossiter
Margaret Ruskin
James Scott
Peter Scott
Peter Seaborne
Richard M Shaw
Pippa J Smith
Andrew Smith
Stephen Spooner
Andy Strong
David R Swinson
Sue E Symonds
Barbara Tagholm
Harriet R Tupper
Alan J Turk
Ian Unsworth
Richard Waldram
Eliot Walker
Patricia A Walker
Eve White