A day in the life of a student arborist
---
Once again our student arborist placement is well under way, and this year we've been thrilled to receive the generous support from two funders, the Finnis Scott Foundation and the Ernest Cook Trust, which has covered all the costs for one of our placements.
Joe is with us following his studies at Myerscough College, and having been with us for 2 months, he's definitely getting stuck into the role. We asked him a few questions about his experience so far.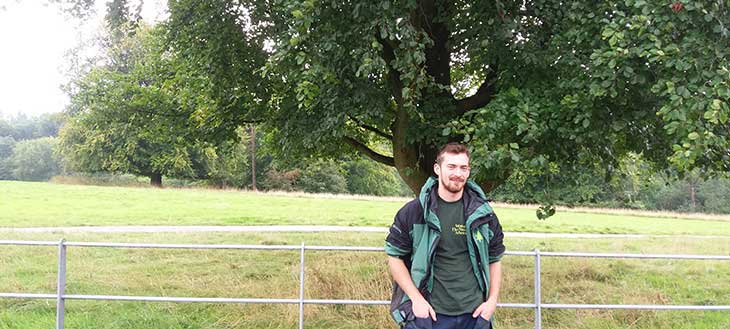 How's the placement going so far?
It's going well – there's been a really good mix of practical activities and desk-based work. It's been great as I've been able to really tailor the role in terms of getting bits of experience I need. For example, I wanted to get to grips with job-coding, which involves examining trees and determining their health and how much upkeep they need going forward. Mark [Westonbirt's curator] has been really accommodating in making sure I've been able to take on tasks to ensure I gain skills in all areas of tree management. It's also been good to be around people with so much knowledge. Everyone's prepared to take the time out and pass on the benefits of their experience.
What's been the best bit? What have you particularly enjoyed?
Definitely tractor driving, which I hadn't done before I started at Westonbirt.
Is there one key thing you think you might take from this experience?
A highlight will definitely be being able to look back and see that I've been able to influence the landscape.
And what are your future plans?
I'm hoping to go into land management, working for a tree team as an arborist or I might even go freelance as a consultant.
Mark, who manages the placement and is Westonbirt Arboretum's curator, believes fervently that this placement is of huge value both to the arboretum and the students.
"The placement is well established and has been running successfully for many years now, and it really benefits both parties.

The students obviously gain valuable work based experience and not only learn new skills but put existing experience into practice. They always enjoy the chance to use the academic knowledge gained at college or university in a 'live' situation, and take a lot back into the final year of study. They always find the chance to work alongside experienced practitioners very beneficial, as our arborists can pass on helpful insight and practical tips on a daily basis.

We in turn enjoy fresh faces in the team each year, bringing enthusiasm, the latest thinking and an exchange of ideas. It keeps us on our toes, as the students are constantly questioning our methods and reasoning. This regular scrutiny helps us to make sure we are on the right track with our plans and policies in particular.

The opportunities to gain essential experience can be limited, especially for mid-year students, and so we feel it is very important to keep this offer alive. After a year with us undertaking a wide variety of different tasks, students often have a much better idea as to which particular area they would like to specialise in the future too."
Thanks again to the Finnis Scott Foundation and Ernest Cook Trust for their generous funding. Our student arborist placements run every year and need funding to cover a salary for the student, qualifications & certification, tools & equipment, learning visits to other arboreta, and clothing & personal protection equipment.
---
If you would like to support the tree team by making a donation, please contact fundraising@fowa.org.uk.