Ancient skills for a modern building
---
Henry Russell is a leading timber framer who was heavily involved in the creation of the Great Oak Hall and the Silk Wood Barn at Westonbirt Arboretum. He has led a series of courses in timber framing for The Carpenters' Fellowship. This week he's been leading a team hewing huge beams for our new Tree Management Centre. Here's his reflection on the process - and a bit of an explanation for the uninitiated!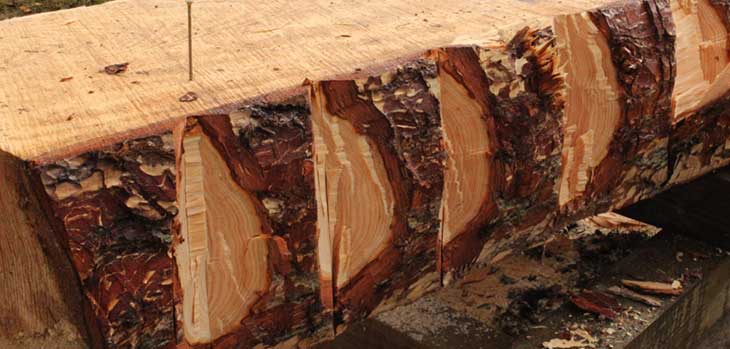 What is hewing?
Hewing is the process of shaping round logs in to square beams using axes.
The first stage is to mark lines on the log's surface; notches are then chopped into the log to the correct depth and angle.
The lumps of wood left between the notches can then be split off to the line. This is usually done using a double bevelled axe.
The surface is then cleaned up to a neat flat finish using a finer axe. This is often done using a large side axe or broad axe.
A bit of hewing history
Up until the nineteenth century, all timber had to be converted from raw round logs in to beams, planks and boards using hand tools alone.
Although cleaving or splitting was used, by the middle ages, axes, of various sorts, were commonly used by carpenters and shipwrights to square logs.
Squaring logs up allowed the wood worker to remove sapwood, reduce weight and to mark out and cut joints quite quickly and easily.
Once hewn, the beams could be placed over trestles or even over pits to be sawn into smaller pieces.
Hewing diary
Day one...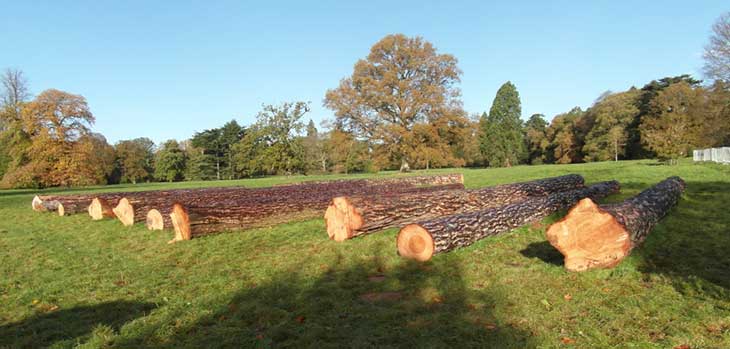 We arrive on site to find five massive lumps of Corsican pine in the field close to Old Arboretum. They are 21 metres long and very very clean of knots. Superb timber!
Simon Toomer and Sophie Nash count the rings with me. Surprisingly difficult to do because, with such large veteran trees, the rings are very close together the further out you go. 135-140 years old! This confirms what Simon believed was the date of this Corsican pine plantation at Westonbirt.
The team of hewers is made up of six experienced timber framers who have been with me before on hewing events, and six young apprentices... and Brian Williamson, one of Westonbirt's resident coppice workers.
With the sun shining, we do introductions and discuss the important health and safety issues. Hewing is safe if you follow certain rules but can be very dangerous if you don't.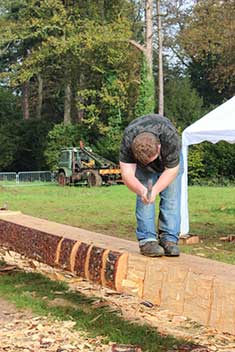 The logs have already been milled to 300mm deep beams with a chain saw mill. We mark them out in to huge cambered tie beams for the new machinery shed at Westonbirt - 425mm deep minimum. When finished these beams will not weigh 3 tonnes!

Axes start to swing as we notch the logs to our lines. The timber is so clean we can split off the chunks between out notches quite easily. They are muy buenos notches!!
Many types of double bevelled axes are being used. Generally with this size of timber bigger felling axes are more effective than smaller. But of course that does depend on the strength and size of the hewer.
Day two...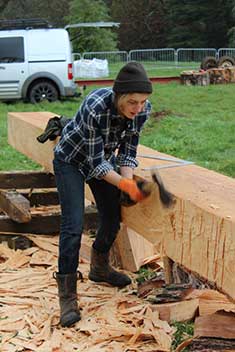 We start again about 8.30am with discussion of health and safety and a plan to finish the job in the day. But... there is rain... we run to put the big white tents up!!

The rain gets heavier... luckily much of the notching and splitting (sometimes called juggling) is done. The next stage works well under tents. It is the cleaning up of surfaces with big side axes.

We have a range of axe styles. The most spectacular are the Germanic goose wing axes. One apprentice "merlin the strong" has a wonderful collection. These leave a relatively flat finish but are heavy beasts.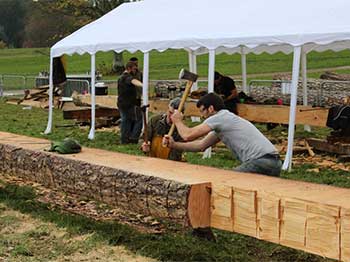 Those hewers of more slight build, for example apprentice coppice worker, Fiona de Wert, uses a small double bevelled axe. This tool leaves a beautiful scoopy effect.

The hewing stops only for lunch brought by Sue Brentnall... fabulous local cheeses, grilled aubergine, and artisan made breads. It's a hard life of the hewer!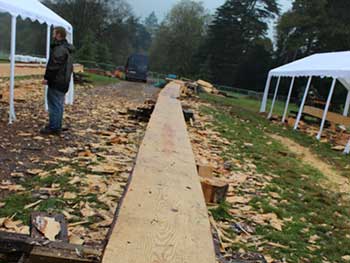 We rush to finish by twilight. Tom Macurrach and Joel Hendry, two old hands, rapidly finish the last side by two man notching (a dramatic, high octane, European technique).

Clearing up in semi-darkness and saying our goodbyes... we have hewed probably the longest surfaces in Europe for 300 years: 63 square metres. Crisp but undulating... unlike any sawn finish. We are keeping alive an ancient craft skill on a hyper-modern building at Westonbirt. Why not!
We disperse to nurse our aching claw like hands with a few pints of good English bitter.
Thanks for reading!
Henry
---
Useful links: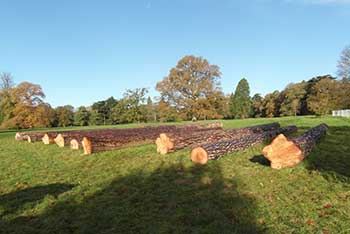 CATEGORIES