Carving the sculpture 'From little acorns' . . .
---
We asked one of our spring woodcarving exhibitionists to share an insight into her woodworking.
Follow Lyn McCracken on her journey to entering 'The Power of Nature' British Woodcarvers' Association National Competition.
Design
Having decided to carve a piece for this competition, the first thing is to design it! I decided on a hand holding a sprouting acorn. A simple design, so having different woods was essential to make it interesting. The acorn and its branch needed to be oak, so I chose lime for the hand, and I had a chestnut root sitting in my log shed from an old sweet chestnut tree and decided that could be the base.
To create the hand I took a squared block of dry lime, purchased from specialist timber merchants. I then drew the hand on 2 sides of the block to give a front view and side view. This was then bandsawn to get rid of the bulk of the excess timber. The resulting very square-edged blocky hand was carved with gouges until it had the look I required.
Keeping tools at their best
I use a carving bench with a vice attached, and the woodblock is fixed tightly to enable pressure being used when carving. I have probably 80 gouges (though some carvers have hundreds) but I only use 8 all the time, and 20 occasionally. Keeping them sharp is essential to get clean cuts, and it is much easier to carve with razor-sharp tools, and you are less likely to cut yourself!
No turning back

We often say we carve away until the sculpture inside the wood reveals itself . . . .which is very true. Of course, with carving as against using clay, once cut off, you can't put it back or stick a bit more on!! You can only reduce.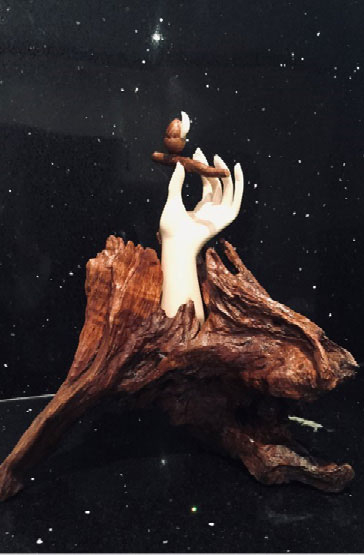 Having got a satisfactory hand (which is purposefully abstract with longer, more elegant fingers, rather than a realistic representation) the chestnut root had to be cleaned up, but this is all that I had to do – I left it natural – as Mother Nature had made it, which I thought more appropriate for 'The Power of Nature' title – it just needed oiling with three coats of finishing oil. The base of a sculpture or carving can make or break the piece – it is as important as the main subject.

The acorn was carved separately from its oak branch, and pinned on. The problem then was making the branch fit the fingers exactly – lots of trial and error here!! Always a worry that you will take off just a fraction too much, especially as it had to balance with a weighty acorn sitting on it! A touch of glue helps!

All that was left to do was to polish it. I used a pure wax polish – I use the same for my oak dining table!
What a great read about the complexity involved in designing and creating in this art form! Now the question is...how did Lyn's sculpture fair in the competition?

---
Do you have a story you'd like to share about Westonbirt? Email us at marketing@fowa.org.uk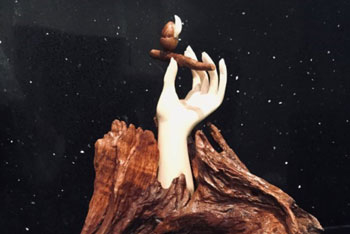 CATEGORIES