Chair Making at Westonbirt
---
Paul Hayden has been making Windsor chairs from green wood for more than twenty years. He regularly runs chair making courses at Westonbirt, using the Silk Wood Barn as a venue for a traditional workshop.
Getting ready for the last two courses of the year. The trees around the barn are starting to wear their autumn colours and the woods are beginning to smell like autumn. Time to take stock and look back on another good year. A year that has made me very proud.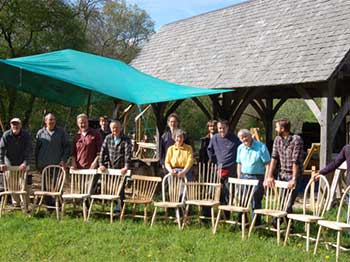 First Pete Murray (The Artful Bodger) who has helped run the course for the last couple of years won The Balvenie Young Master of Craft 2012 award. Congratulations Pete.
Second we ran eleven fully booked courses this year with a total of one hundred and eleven students taking part. Many people were returning for a second or third course and were able to make some really ambitious chairs. We made splat backs and arm bows, double bows, children's chairs, high chairs, freeform chairs and rocking chairs this year.
Thirdly our Bursary Scheme has taken off. Many people opt to pay a little extra at the end of the course to allow us to invite participants who would not otherwise be able to afford to join us.
Most courses this year have had a beneficiary of the scheme joining the group. Most recently NASDFAS, a local group promoting arts for young people, has offered to sponsor a young person from Gloucestershire to attend the course next year.
More information about courses and the bursary scheme including how to apply are available from www.greenwoodcourses.co.uk
Looking forward to the last courses of the year, to enjoying the wonder of autumn in the Silk Wood Barn and to another great year in 2013!
Useful links
Information about Paul Hayden's chair making courses:
Pete Murray, The Artful Bodger: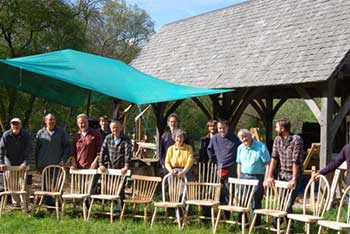 CATEGORIES