Community Shelter update - steam bending
---
As February arrived the community participants were back in the heart of Silk Wood as the Community Shelter project moved to the next construction phase.
The Community Shelter is being built using a variety of woodworking techniques. The arches are being produced via a method called steam bending.
What is steam bending?
Steam bending is an ancient process using a steam box to steam oak laths for the purpose of making them pliable. Heat and moisture from the steam softens the wood fibres enough so the laths can be bent and stretched into the arch position. The laths are quickly held into place using spreader clamps. When the wood has cooled down the laths will hold their new shape.
The process of steam bending is most commonly used for making furniture, instruments such as violins as well as bending the hull of boats.
Once the steam bending process is complete hole positions are measured out, drilled and bolts secured into place to hold the laths in their new shapes.
Et voila! One Community Shelter arch completed! There will be 32 arches in the final structure, built by our community participants.
Watch the process: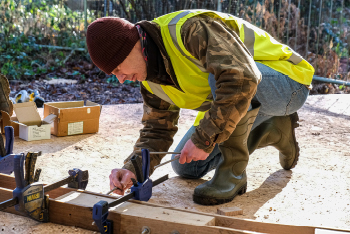 CATEGORIES