How do you roast chestnuts over an open fire?
---
As part of Westonbirt's programme of family activities this winter, Westonbirt's education team have created a trail that explores winter traditions from around the world.
Caroline Bennett, Westonbirt's Education Officer, researched the trail and uncovered some fascinating facts about the trees and plants which are central to so many of these traditions and beliefs.
How do you roast chestnuts over an open fire?
Sweet chestnut trees were introduced to Britain by the Romans and the nuts of these trees are roasted and eaten all across Europe, particularly at Christmas time.

Chestnuts would traditionally have been roasted in a long handled pan or a shovel on the embers of an open fire, after being split partly open. If you don't have a shovel or an open fire you can still try them at home following this recipe:
1. Preheat oven to 200 degrees Celsius
2. Cut a slit or a cross into the shells of the chestnuts to let steam escape (and to stop the chestnut going "bang")
3. Put them on a baking tray
4. Bake in oven for 15 – 20 minutes, allow to cool a little
5. Peel using your fingers and eat – enjoy!
Useful links
More about family activities at Westonbirt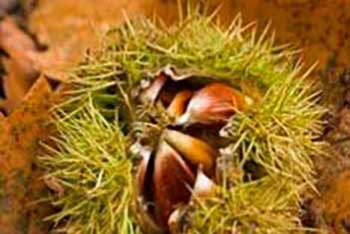 CATEGORIES