I am a 'Woody Woman'
---
Coming from Westonbirt's marketing office, I anticipated the Woody Women course to be something of a challenge.
Led by professional coppice-workers, Ruth Goodfellow and Jenna Higgins, the Woody Women course aims to give an all round woodland experience: from learning about woodland management, using tools such as axes and drawknives to thinking about how women can approach physically demanding tasks in woodlands using lifting and moving techniques.
For me making a spatula was really enjoyable, and the result now takes pride of place in my kitchen at home. A spatula may not sound like the most exciting thing to make, but believe me when you have carefully cleaved a thin wedge of wood for yourself, used an axe under such close control, and gone onto lovingly shape and carve it you will know better. I believe a wooden spoon is by comparison an altogether tougher challenge! The fire-lighting task heralded much pondering of whether Ray Mears' preferred brand of fire steel was in fact the best. I used small dry sticks collected in the hazel coppice as a base, a layer of Old Man's Beard as tinder on top of this with a scattering of birch bark and last but not least a chunk of King Alfred's Cakes (dry fungi) in the centre of it all. It was hardly surprising that it took only a few strikes of the fire steel to get this lot going with such a catch all approach, even after a downpour!
---
I now have a better sense of the woodland, gained by participating in this weekend. Camping in the woods and being awoken by the dawn chorus was a joy but I am not sure this feeling was shared by all in our party! In any case the Woody Women course is highly recommended as a way to get to know Westonbirt better.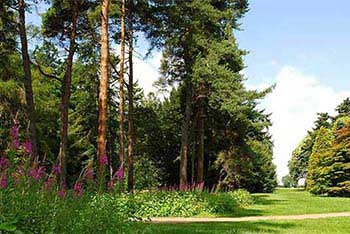 CATEGORIES