Plant hunting . . . an exciting opportunity to make a difference!
---
New specimens are the lifeblood of any botanical collection.
They are needed to provide an all-important uneven age structure, which should ultimately ensure there will be trees for future generations to enjoy.
Together with an expert from Royal Botanic Gardens Kew, we are about to set off on a three-week trip to Italy this autumn to search for internationally important tree species. We will be travelling light and covering as much ground as possible to make the most of this exciting opportunity. We'll start collecting in the far southwest, before heading to the northeast.
Dendrologist Dan Crowley, Propagator Penny Jones and I will explore hundreds of miles of Italian countryside to seek out a target list of species that we have carefully selected for a variety of reasons. We will be accompanied throughout our trip by several Italian botanists and researchers, who have kindly helped us with the planning and logistics.
---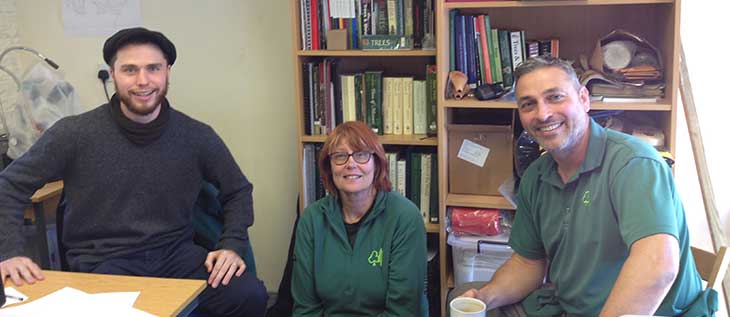 Left to right: Dan, Penny and Mark.
---
Some of the trees and shrubs identified as targets will be familiar, but it will be useful to test a more southerly provenance of these species in view of our predicted changing climate. When I asked Dan what he was hoping for, he immediately stated his main aim is to collect seed from Lobel's maple (Acer lobelii), as this is rare in the wild and in cultivation. Penny wishes to see trees growing in their native range and habitat, which will importantly help us to position new plantings correctly within the Westonbirt landscape.
The species that are grand in size will be sought to maintain and develop the historic landscape at Westonbirt, but there is potential that some of these species could also have a big impact on the forestry industry in years to come. In partnership with Forest Research, we have been gathering information on a few key species which have the potential to become timber trees, hopefully with less risk of pest and disease.
Recent work by our Forest Research colleagues has shown that European silver fir (Abies alba) can be a productive species when grown in Britain, and could be more widely used to diversify our UK forests. The work showed that seed collected in Calabria, Italy performed well and we now need to establish better contacts in this area to collect new seed. We also want to learn more about how altitude, soils and other factors affect the growth of this tree.
---
We will endeavour to provide a few updates along the way, and as always, we look forward to seeing how well these new trees will grow at Westonbirt and elsewhere.