Renewing Westonbirt's links with Japan (part 3) - a successful few days
---
Westonbirt Arboretum's Director, Simon Toomer, and Superintendent, Mark Ballard, are currently in Japan for two weeks to collect seed from the wild.
The trip will help to develop Westonbirt's tree collection with more diverse species of maples and other trees from this temperate climate. The team wish to thank the private donor with a passion for plants and science who has funded this trip.
Monday 3 October 2011
Its late in the evening and the first chance we've had to send an update for a while, as we've just spent two very busy and very successful days deep in the Naka-kawane Forest.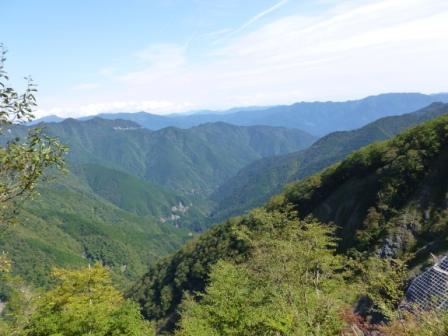 We were picked-up early on Sunday morning at our hotel in Shizuoka by Professor Hiro Mizunaga, and were accompanied on our journey westward by five Indonesian forestry students. They were also guests of Shizuoka University, looking at Japanese silvicultural practices and forest management issues at the same location.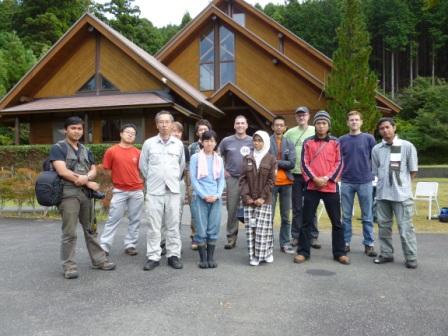 Once at the Naka-kawane Forest we met-up with Mizuki Fujishima, a research student, and Taichi Kajikawa, a local forest guide. Both helped us on our last trip back in 2008, and it was good to see them again. We wasted no time in setting-off in a 4x4 vehicle up the mountain, along a very steep road with an almost vertical drop to one side. We passed through plantations of 'Sugi' (Cryptomeria japonica) and 'Hinoki' (Chamaecyparis obtusa), and each wondered how these montane forest trees would be harvested in future.
At an appropriate spot amid dense native woodland we then carried on on foot, on the look-out for target species with good seed. Our guides proved invaluable, and it doesn't take us long before we are spotting the trees we have travelled so far to see. First up was Acer micranthum, one of the snake bark maples, other species of maple, or 'Kaede' in Japanese, quickly followed. Acer diabolicum, known as the Devil Maple because of horns on the seed, Acer carpinifolium, Acer sieboldianum and Acer palmatum subspecies amoenum are all in the bag. We also collect seed from lots of other interesting tree species: Styrax japonica (Japanese Snowbell), Stewartia monodelpha; Kalopanax pictus (Castor Aralia) and Carpinus Tschonoskii (Hornbeam) to name but a few.
We continue to climb steadily higher until we can go no further; the recent typhoon has caused a landslide taking with it a huge chunk of road. No worry though, as we see things on the way back down that weren't obvious at first glance. The views out over the tree covered mountain range are breathtaking, and we each feel very fortunate to be here. Lots of photographs are taken and Simon continues to film proceedings with a small hand-held camera.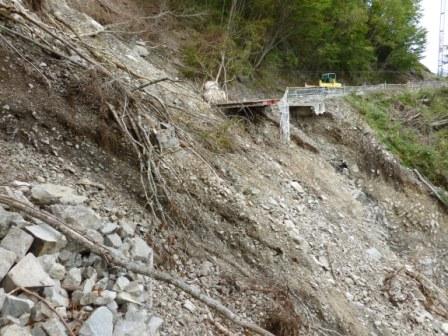 The day ends at the mountain lodge, where we each give power-point presentation to the group of Indonesian students and Japanese university staff. There are plenty of questions as everyone is very interested in the arboretum and the work that we do. Simon, Ted and I settle down to sleep in a shared room, after a few hours cleaning seed and recording the all important field data.
Tuesday 4 October 2011
After a quick 'fusion style' breakfast, we are all back up the mountain, although we take a different route today and leave the vehicle much sooner than the day before. We climb an incredibly steep path from 1,000m to 1,600m above sea level, stopping to collect seed on route once again. We are led by the sound of a bell used to ward off bears, which is worn by Taichi, who we previously named the 'mountain goat' due his ability to easily skip across the toughest of slopes.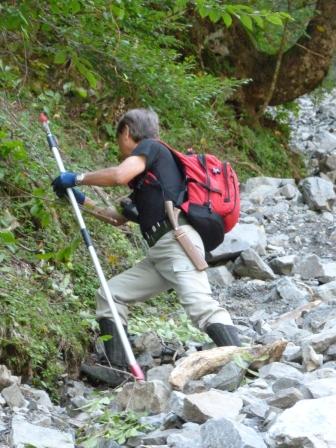 Before the day is over, we had made more seed collections and now have 25 in total. Lots of useful discussions take place between the group members concerning identification of key plants, which is always a valuable part of these trips. We manage to bag Quercus mongolica (Mongolian Oak), Picea jezoensis (Yezo Spruce), Picea polita (Tiger Tail Spruce), Tilia japonica (Japanese Lime) and Rhododendron pentaphyllum.

We did not have time to grab any lunch today, but instead lap-up the view and stunning scenery once again, before making the tricky decent. Once back at the lodge, we show our appreciation for the help we have received with gifts of Westonbirt calendars and Wakehurst Place notebooks. Then we begin the long drive back to Shizuoka, feeling tired but very happy with our expedition so far. We arrive back after 7.00pm, grab a quick dinner of rice and noodles, before taking care of the seed and records as always. It's late to bed after that, but we're really looking forward to an exciting couple of days ahead on Mount Fuji from tomorrow morning.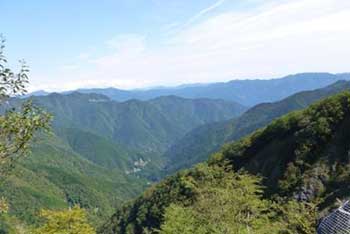 CATEGORIES