Renewing Westonbirt's links with Japan (part 5) - catching up with an old friend
---
Westonbirt Arboretum's Director, Simon Toomer, and Superintendent, Mark Ballard, are currently in Japan for two weeks to collect seed from the wild.
The trip will help to develop Westonbirt's tree collection with more diverse species of maples and other trees from this temperate climate. The team wish to thank the private donor with a passion for plants and science who has funded this trip.
Chichibu University Forests - Day 9 & 10
We meet another old friend at 8.00am on Thursday in our hotel lobby, Dr Takashi Masaki of the Forestry and Forest Products Research Institute in Tsukuba. It was just like old times and great to catch-up, as we had spent many days collecting seed together back in 2008.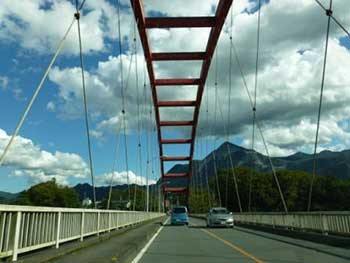 We wasted no time in heading for our next destination, the Chichibu University forests, some three hours drive to the west. Takashi had arranged for us to meet university officials at the forest office in Chichibu City, and they gave us a brief presentation about the area and native flora. He had also sent them a copy of target species list, so they already had the best places for us to go in mind. After a tempura and noodle lunch, we headed for the mountains in two vehicles, accompanied by a local member of staff to guide us.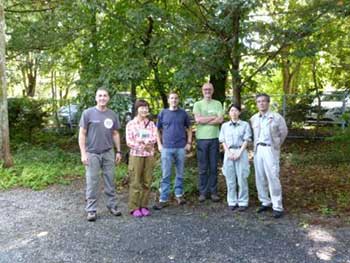 No sooner had we reached our first stop, and we bagged Acer crataegifolium (Hawthorn Maple) in a sunny location next to a path. We then moved higher to a forest road next to a beautiful river, with clear pools of aquamarine water that looked very inviting on a hot day. We are getting to visit some spectacular places that most people will never get the chance to see.
Lots of other target species were collected during a really productive afternoon. Into the bag went: Meliosma myriantha; Mallotus japonicus; Styrax obassia; Stachyurus praecox; Euonymus oxyphyllus (Korean Spindleberry) which has fantastic autumn colour; and Zanthoxylum piperitum (Japanese Pepper Tree) which has edible fruit and medicinal uses. We collected seed from a dozen plants in total, and headed for our hotel, also booked by Takashi.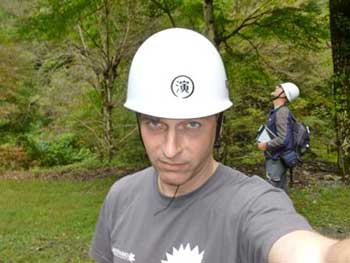 The next day we set-off for a different part of the Chichibu forest, which was yet higher still and equally scenic. We made ten collections, including Acer capillipes (a snake bark maple) and Acer japonicum (Full Moon Maple). But what we will all remember most, is Takashi shaking the branches of a large walnut tree (Juglans mandschurica) with his huge telescopic pole, and lots of nuts falling from sky like giant hailstones. At that point we understood why we had each been issued with a hard hat the day before.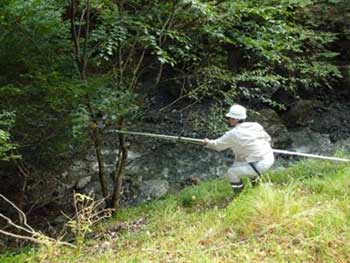 At around 5.00pm we said goodbye and thank you to our kind hosts, who had been incredibly helpful and had issued us with the essential plant permits. They were actually very honoured that we had travelled so far to collect seed from their native trees and shrubs. We headed back to our base in Tsukuba, driven the many miles, of course, by Takashi. We arrive there late, and straight away get stuck into the important tasks of seed cleaning and recording field data.
---
A couple of days rest now, until the final part of our adventure in the University Forests of Chiba to the south, with Takashi once again.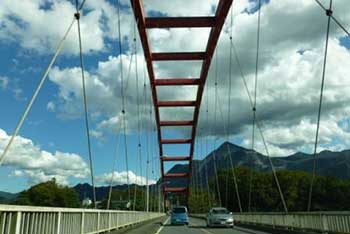 CATEGORIES