See it, smell it, touch it, taste it!
---
The role of the Community Inclusion team is to enable a greater number of people from under-represented groups to experience the arboretum and to connect with trees. Funded by the Heritage Lottery Fund, Community Youth Officer Karen Price is working with young people so that they can discover, explore and enjoy the arboretum, either as part of an organised group or as individual visitors.
As an internationally renowned tree collection, people come from far and wide to experience the magnificent sights the arboretum has to offer. From spectacular spring blooms to bursting autumnal colour, the arboretum can certainly give a feast for the eyes for all our visitors enjoying a walk in the woods. And surely we've all got a favourite tree at the arboretum - our curator's is the paper bark maple at Down Gate, whilst for me I'm torn between the White barked Himalayan Birch on the downs and an old, dead oak in the coppice coup, although I think deep down the oak wins. But how many of us have a favourite sound, or smell?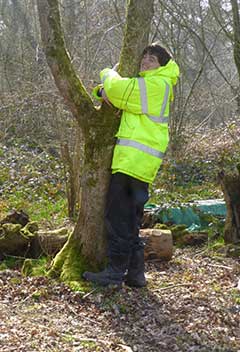 The community youth team have been developing activities that use the senses to explore the arboretum through sight, sound, smell, touch and taste. And not just the trees, magnificent though they are, but also the habitats they create and the wildlife that lives in, on and beneath them.

Restoration work in the coppice coups has created sunlit clearings where bluebells and wood anemones flourish, creating a carpet of colour that entice groups in. They crouch down and look closely at the ground where empty hazelnut shells can be found, each one presenting a clue to the identification of what ate it - split in half for a squirrel or a nibbled round hole for a wood mouse. Then they will find a comfy stump and sit a while and to listen for a greater spotted woodpecker drumming out his call, or even a hungry tawny owl out and about during the day.
In the wider collection groups can feel the textures of the bark; the spongy redwoods, the papery birches and the twisted sweet chestnut. They have found the cones, held them, smelled them and flicked the scales of Holford pine cones with their nails like a thumb piano to make a tune.
They can also smell the landscape of a working woodland. Freshly mown grass and wood smoke, wild garlic and pine resin. Found a fallen eucalyptus leaf and crushed it between their fingers to release the scent. Then sat a while with a cup of nettle tea, or nibbled on a hawthorn leaf (once known by children as bread and cheese and apparently has a mild nutty flavour, but mainly it just tastes of leaf).
Although enjoyed by all, the sensory activities have been particularly engaging for young people with specific needs, particularly autism. In recent weeks we have been working with groups of young people with varying degrees of autism on a repeat visit programme, and have been piloting activities that enable participants to explore and learn about the arboretum at their own level of understanding and speed by engaging with all the senses.
---
Our next project is to make a series of glockenspiels from coppiced hazel to develop creativity (as well as tool use skills) and a Victorian plant hunter's collection chest which will enable young people with limited mobility to experience the sensory woodlands in a physically accessible way.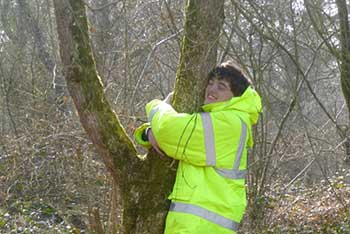 CATEGORIES