The great drought of 2018
---
As I write this article, we have experienced over 7 weeks of hot and dry weather interspersed with just one or two days of rain worth mentioning.
Across the country, village greens and parks have turned golden and historic archaeological remains have become visible as the dense grass that normally hides them has parched. Some of our trees here at Westonbirt are showing signs of drought too, in particular, shallow rooted species such as birch and cherry, and some of the young plants we planted in winter just gone which haven't quite set their roots down yet.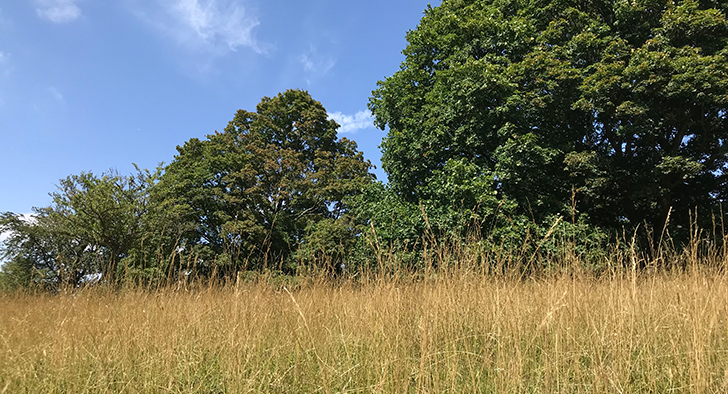 The Downs at Westonbirt Arboretum, August 2018

---
Watering plants
I have been asked by several people about watering our plants. Many are surprised to hear that we don't routinely carry out any watering at all once our plants go into the ground. We take the approach here at Westonbirt in that once we have chosen what we feel is the right spot for the plant to grow in, it either likes it or it doesn't. So why, after all the effort of collecting the seeds from across the globe, 3 years in the nursery with lots of irrigation, and love and attention from our tremendous propagator, do we not continue that once out in the collection?
It simply comes down to the logistics of it all. We are a 600 acre site with over 15,000 specimen plants and no water supply outside the main activity areas. Oh yes, and only 5 tree team members out on site.
A rough calculation reckoned that with the time it takes to fill/refill the bowser and drive to a spot in the Arboretum, we could maybe water 100 plants per day. That's 20% of our staff resource watering 0.6% of the collection. Even then, it would be a token gesture.
---
Mulching
What we do do to help preserve soil moisture is to mulch all of our new and most vulnerable plants. Mulching has a host of benefits for all trees :

Suppresses weeds, which compete for water and nutrients

Reflects sunlight, which reduces soil temperature

Provides organic matter into the soil, improving soil structure and water holding capacity

Builds up mycorrhizae levels in the soil, improving water uptake by the roots.
Strong and healthy plants are more enabled to deal with periods of stress, even drought is managed as the plant shuts down essential growth processes in order to survive. This can be seen in annual growth rings; wide rings show a year where conditions suit growth whereas years that haven't provided essential requirements for growth can be seen in narrow annual increments.
---
2050 Glade
As we continue to push the boundaries of new plants from across the globe, there will always be some that make it and despite all of our best efforts, some that don't. The very attractive 2050 Glade is an opportunity for us to test the hardiness of plants that may grow better here as climate change develops. Seeds from Turkey, Mexico, Chile and Japan have been collected and propagated here at Westonbirt.
As these and native plants grow, we can monitor phenological events such as bud burst, flowering and leaf drop to determine the effects of climate change.