Timberframing
---
Westonbirt is welcoming back Perchard Structural Timberworks to help us develop our Woodworks this winter. Read on to find out how Nick and his team are getting on...
Hello, I'm Nick Perchard and my company is lucky enough to be constructing two new buildings at Westonbirt Woodworks.
Perchard Structural Timberworks is delighted to be back at Westonbirt working on the oak frames for the Sawmill Shelter and the Drying Store. Several of us worked on the Tree Management Centre (TMC) in 2016 including Pete and Finn Eyles, who are joining me again to be part of this exciting project.
The Mess Building (part of the TMC) was one of the first projects of my fledgling company 3 years ago. Pete and Finn also worked on the machine shed for Carpenter Oak and Woodland. We all have very happy memories of working at Westonbirt alongside their volunteers and staff who contributed hugely to the success of the projects.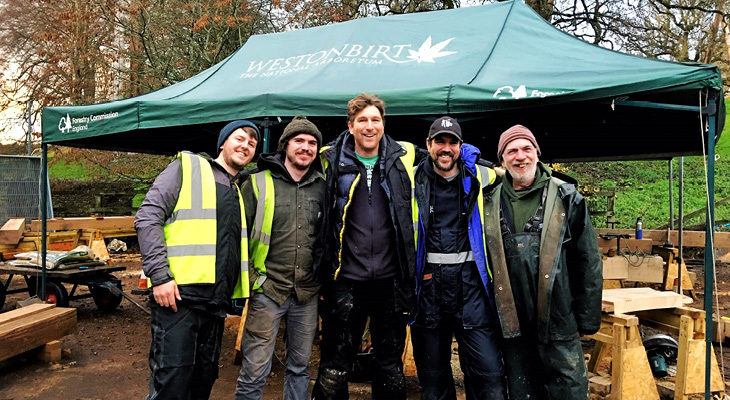 This time around we also have some trainees working with us. My brother Jonty is now learning the art of framing alongside Alex Curtis. We have also been joined by Liam Scanlon who is on a bursary from the Prince's Foundation.
The fact that we are working on site with timber from the Arboretum is wonderful both from a sustainability perspective and also on a personal level as it is such a beautiful place to be. The weather has been kind to us so far and we are just putting the finishing touches to the Sawmill Shelter frame now. Frame raising will hopefully take place next week and all are welcome to watch from the treetop walkway. It's tremendously exciting to put a frame up and see the timbers which have up to now only been together in two dimensions all go together to make a 3 dimensional building. The complex roof structure will be fully visible for a short time until we fix the sarking boards on to make the first layer of the roof build-up.
We are shortly going to start framing the Drying Store which will carry on while the cladding goes on the sawmill shelter. It's all go down at the Woodworks!
---
Would you like to help us with another project? Donate to our coppice shelter appeal and help bring back a part of Westonbirt history...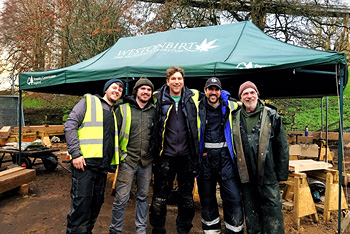 CATEGORIES