Top tips for picnics
---
Wondering what to eat whilst Maples Restaurant and the Courtyard Café are closed?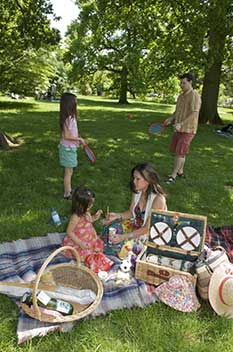 Well, aside from the yummy treats on offer from our mobile caterers, the Westonbirt team have been sharing some of their favourite picnic recipes and tips, to help you get the best out of dining alfresco at Westonbirt…
---
Mark, tree team:
"Kelly's Picnic Potato Salad:
Boiled, halved & chilled New Potatoes
Finely chopped Spring Onions
A little Light Mayonnaise
A teaspoon of Dijon Mustard
Fresh Dill or the dried stuff
Black pepper
Keep in a cold box until you're ready to eat."
---
Simon, events team:
"Cake"
---
Miranda, Westonbirt Project team:
"A bone for Hank [the dog] to stop him stealing my sandwiches..."
---
Paul, recreation team:
"A flask of chilled gazpacho - very refreshing on a hot day.
Jazz up a boring cheese and tomato sandwich with some rocket, basil and a few pine nuts - yummy and healthy. Never go too far without a classic potato salad with thin slices of red onion and delicious mayonnaise. Don't forget the camera to help capture the memories. Sun cream and a hat are always a must."
---
Gina, marketing and communications team:
"The night before a picnic, freeze fruit juice cartons. Pop them into your picnic in the morning as ice packs to keep your picnic cool - by lunchtime they'll be defrosted to the refreshing 'slushy' stage."
---
Katrina, marketing and communications team:
"Delegate! This has two benefits - one person isn't responsible for all the cooking/ prep and of course, the more people who take part the merrier! Different families and friends have their own picnic favourites, so you could end up with a cosmopolitan range of goodies - just don't forget to dish out the courses, otherwise you could get 10 puddings and no savouries (although in my case that wouldn't be such a bad thing).
Logistics. Does everyone know where they are going? Saying 'Let's meet on the Downs' and then turning up to find 100 other groups have had the same idea can lead to warm food and grumpy other halves/ children.
Games. Don't forget your rounders bat or mini cricket kit - you'll need to wear off all those mini sausage rolls.
Comfort. Two main items that should be a staple part of a picnic set up are a lined picnic blanket (just because the sun has come out it doesn't necessarily mean the ground is totally dry), cushions (after sitting on the ground for a long time you will be grateful), and obviously sun cream and water otherwise you may not be out for long."
---
Louise, Friends of Westonbirt Arboretum charity:
"Frozen drinks/homemade juice slushies made up in water bottles for hot days are always a winner (and a great way to get kids to drink plenty of fluids when they are running around in the sunshine!)
We also love frozen grapes – better than sticky sweets and double up as ice cubes in the G & Ts!"
---
We hope that gets you thinking about your next picnic at Westonbirt!
Useful links
Friends membership is great value for families. Find out more…
Information about Westonbirt's catering…
Plan your visit to Westonbirt…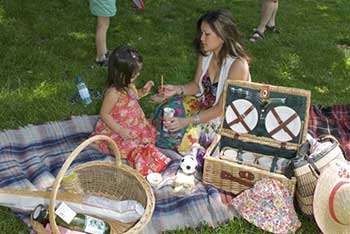 CATEGORIES