Tree of the Month - March 2018
---
What is tree of the month?
Canary Islands Juniper – Juniperus cedrus
Why is it tree of the month?

This elegant conifer has been assessed for the IUCN Red List of Threatened Species as Endangered. In its native range of the Canary Islands and Madeira it is threatened by fire and overgrazing. It is also vulnerable to climate change. It is not often encountered in cultivation but appears to be a little more hardy than perhaps given credit for. In parts of its range it experiences snow and frost and it has certainly experienced them here! In the cold winters of 2010 and 2011 our trees were only slightly damaged and continue to perform impressively well.
Where can I find it?
We have 3 examples of the Canary Islands juniper. One . One along Morley Ride (06.0414) in the Old Arboretum, one along Willesley ride (37.0208 and are largest and oldest example) and another along The Link (39.1399) in Silk Wood.
---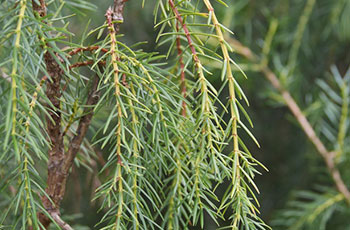 CATEGORIES