Visiting Runners Need
---
#AD
Earlier this month, Julia our Westonbirt Runner, and I visited Runners Need at Costwold Outdoor Cirencester to find out about gait analysis.
Read on to discover how the staff there helped Julia find the perfect running shoes for the Westonbirt 10K.
Arrival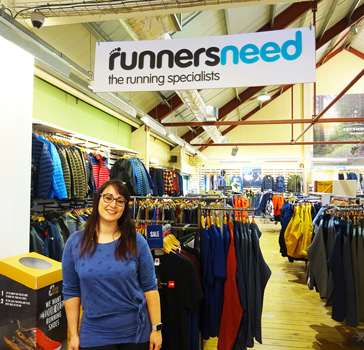 On arrival at the Runners Need store, the friendly staff guided us upstairs to meet Andy who would be guiding Julia through the gait analysis and process of choosing the right shoes for her.

Andy immediately put Julia at ease with his expert running knowledge and explained in depth what the analysis would involve. Julia explained the type of running she does, how frequently and the distance so Andy could get a feel for the type of gear that would suit her running style.
Next, it was time for the gait analysis.
Gait Analysis
What is a gait analysis? Hear from the experts:
After two minutes of jogging on the treadmill, Andy showed Julia the video footage recorded to see how her feet were landing on the treadmill. Surprisingly, she learned she has a neutral running position which meant she had the widest range of running shoes to choose from. This is the best alignment someone can have to avoid injury, as the ankle, knee and hip are well aligned.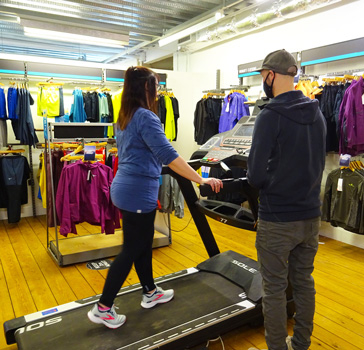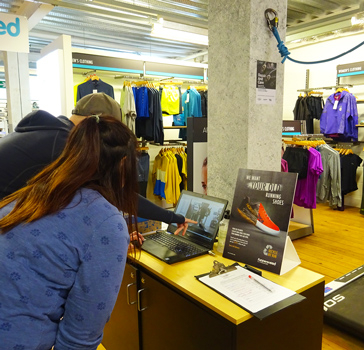 Now onto shoes.
Getting the right fit
Next to the gait analysis area was a fantastic wall display of running shoes. The shoes were separated into sections to allow customers to find the type of shoes they were looking for. These ranged from performance shoes for faster times, lightweight mid-range for good cushioning, and extra cushioning shoes with gel technology.
Andy again demonstrated his expertise by highlighting three pairs of shoes he felt matched Julia's running style and goals and encouraged her to try them on. Before trying them on Andy measured Julia's shoe size to make sure she would be running in the correct size. This was beneficial as to her surprise she needed a bigger size than what she thought!
Julia tried each pair of shoes on and walked around the store to get a feel for them. One pair of shoes stood out to her as being more comfortable and so Andy recommended that Julia try them out on the treadmill to get an idea of how they feel while running.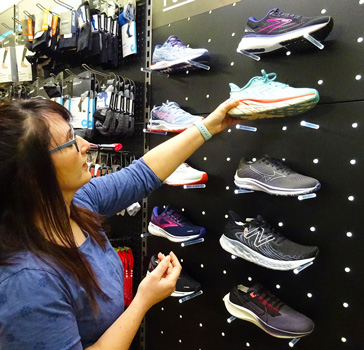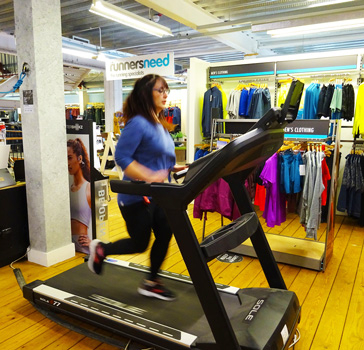 Julia confirmed these Brooks Womens Ghost 14 running shoes were the ones and was thrilled to have found some that felt so much more comfortable than her previous ones. Andy informed us these were good all-rounder trainers and the second most popular running shoe in the 2019 London marathon.
Be prepared
Before Andy boxed the shoes he explained there was a waterproof coating option that would spray over the shoes to give them longer wear and make them waterproof, so when the shoes get wet they won't become weighed down with water as the coating repels moisture.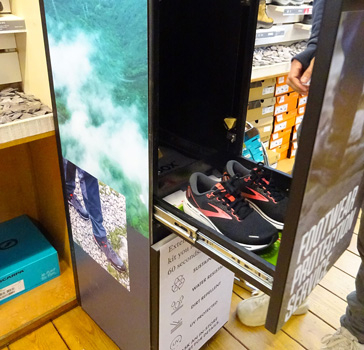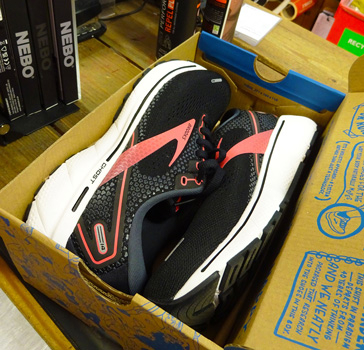 Andy put the shoes in the footwear protection machine and after two minutes the shoes were coated, dry, boxed and ready to take to the till.
Experience
From start to finish the staff service and knowledge and running shoe options could not be faulted on our visit to Runners Need and we'd highly recommend visiting. If you're considering some new running gear or would like to speak to someone about getting started with running then Runners Need is the place to go!
Did you know?
As a member you receive a 15% discount when you shop at Runners Need!
Click here for more info >
Just show your membership card in-store or check our latest magazine/eNews for the online discount code.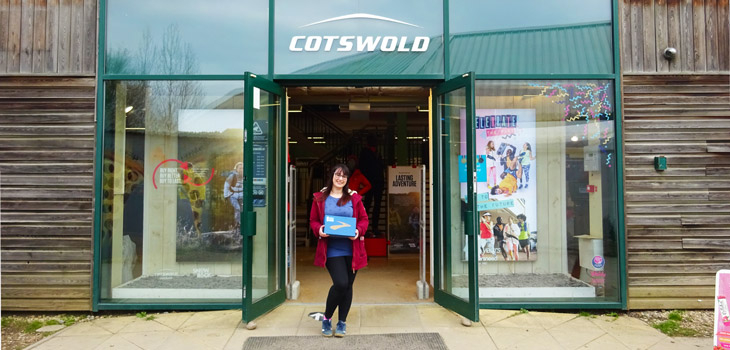 "Thank you, Runners need, and Andy for a great gait analysis experience. I now wonder why I never got it done before! The trainers have now been trialled and tested in numerous training runs and I can honestly say they're the best trainers I have had." - Julia
A huge thanks to Runners Need for sponsoring Julia at the Westonbirt 10K and gifting her the running shoes she chose.