"We just look after it for you"
---
The Friends of Westonbirt Arboretum's Head of Fundraising, Louise Bird, and the Forestry Commission's communications team at Westonbirt, Katrina Podlewska and Gina Mills, are currently in the USA, visiting their counterparts at arboretums and botanic gardens to find out who their visitors are, how they fundraise, and to learn from some of the best.
The trip has been funded by the Friends of Westonbirt Arboretum.
---
"It's your park, we just look after it for you."
Central Park Conservancy leaflet
---
If you look at a map of Manhattan, it's easy to imagine Central Park is all grass, as the flat green square might suggest.
In fact, trees are everywhere in Central Park, dominating the landscape.
In the area called 'The Ramble', you're lead through undulating paths amongst the oaks native to New York City.
Turn one corner of this naturalistic landscape, and suddenly you catch a glimpse of a boating lake, glittering through the trees.
It was a surprise, but made me think of times at Westonbirt when I've turned a corner or approached a planting from a new direction and realised just how well thought out our landscape is.
The same care and attention to detail is true of the design and ongoing management of Central Park.
My main impression of the park was actually more about the restorative wellbeing effects of being outside and amongst the trees.
There is something uplifting about Central Park being at the heart of Manhattan. After the hustle and bustle of the busier areas of the city, my heart was lifted by the experience – for many New Yorkers the same must be true, and Central Park is their backyard, looked after for them by the Central Park Conservancy.
Following my visit I am in no doubt as to how important the park is to making New York so special and for contributing to the wellbeing of millions of people – trees play a leading role in this.
Links
Central Park Conservancy: www.centralparknyc.org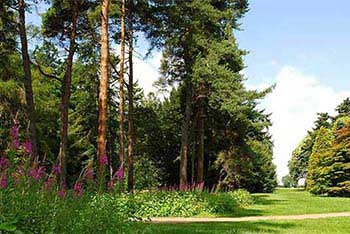 CATEGORIES