Who run the world? Girls!
---
Sunday 8 March marks International Women's Day, an important day for us to celebrate the social, economic, cultural (and in our case arboricultural!) achievements of women!
Forestry and arboriculture is often seen as a male-dominated industry – so we thought we'd take the opportunity to share some stories from our staff on what's great about environmental careers and why more women should pursue them!
Sophie Nash – Programme Manager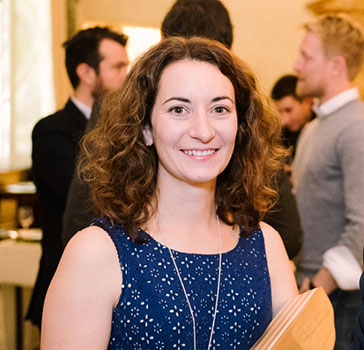 I'm the Programme Manager here at Westonbirt – which means that I oversee and coordinate large business and development projects onsite. For instance, I managed the creation of the new Wolfson Tree Management Centre, the Biffa Welcome Building, and the STIHL Treetop Walkway.

It's a great role if you are super organised and like problem-solving. You spend a lot of your timekeeping projects and other people on track, and problem-solving when projects hit the inevitable bump in the road!
I actually started my career in the architecture world – after doing an interiors and landscape design degree, I worked in an architect's practice. When the opportunity to work at Westonbirt Arboretum came up I jumped at the chance, as I thought it would suit my skills and background and would be an interesting and varied role, and I was absolutely right! Since starting at Westonbirt no two days have been the same!
My advice to anyone looking for a career in Project Management would be don't be discouraged by other people's opinions or be put off by stereotypes particularly in sectors like construction and engineering. If there is a career that you want to do, use your skills to get you there and look for opportunities that will help you hone your talents and reach your goals.
---
Penny Jones – Propagator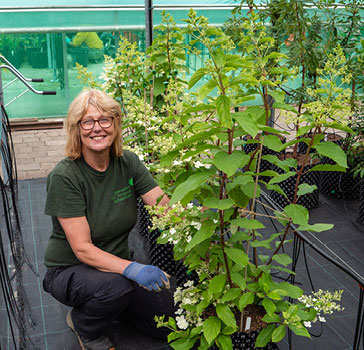 As the Propagator at Westonbirt my job, in a nutshell, is to source and grow young trees. I spend a lot of time working out what plants we should bring into the arboretum. Every plant has to earn its place and we have strict criteria of which species we allow into the collection. I then help to collect the seeds (80% of our plants are collected as seed in the wild), and I've been lucky enough to travel to Turkey, Italy and Japan seed hunting. The seeds are then brought back to the arboretum and I care for them in the Propagation centre until they are big enough to be planted out in the arboretum.
I initially actually worked in an office in an admin role, but I'd always loved plants and trees. In the end I decided that office work wasn't for me and I went to study Horticulture at college. I then worked in the old plant centre at Westonbirt, before moving up to the nursery in 2002 – the rest, as they say, is history.
My advice to anyone wanting to work in Propagation is that you've got to have loads of enthusiasm and a real passion for being outside and plants!
---
Susanna Bayliss – Interpretation Officer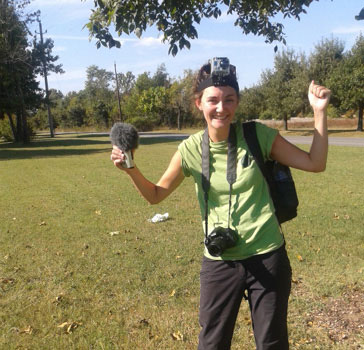 My role as the Interpretation Officer is to find interesting ways to explain information about the trees and the work that goes on at Westonbirt Arboretum to our visitors. This involves a lot of distilling expert's work into core information and finding accessible ways to explain it to someone who may not be an expert.

The great thing about this is that there is no average day to my job, it's hugely varied! One day I'll be writing a design brief, another I'll be interviewing an expert about their work. I could be doing maintenance on our interpretation installations or devising audience research and implementing it with a team of volunteers.
My advice to anyone starting out would be don't be restricted by the jobs you know about, there are all kinds of career paths you can take in the environmental sector. I did a degree in journalism, then started my professional career in audio production, and transferred to interpretation! Don't be scared to jump into a job you think looks interesting, even if it's a bit different to what you've done before.
Fancy finding out more about what it's like to work at Westonbirt Arboretum? Have a look at our work experience placements here
---
Make a difference at Westonbirt by becoming one of our charity trustees - find out more here...
Sense your way around the new spring trail - discover more here...