Zero waste by 2030
---
Zero waste by 2030
Digging deep into Westonbirt's waste and a greener future.
As part of Westonbirt's plan to get to net-zero by 2030 we've been working with an environmental consultancy, Avieco, to help develop a strategy for our waste and energy, and this involved audits, setting targets and making a plan for reductions and savings. We have undertaken waste and energy audits to identify opportunities to reduce our carbon footprint. The full audit was extensive but here are some of the key findings and ways that we can all help to reduce our carbon footprint at Westonbirt and at home.
Our waste and where it goes
Understanding what our waste is and where it goes was an essential but messy business. Working with Avieco (an independent sustainability consultancy), we assessed the waste, what it is, what contamination we have, where it goes and reviewed data from recent years. Understanding this is an important first step to improving waste management as we work towards being net-zero by 2030.
The interpretation of zero waste is that 90% of waste is diverted from landfill.
Zero waste target
As part of our pledge to also achieve zero waste by 2030, we will use the 'Reduce, reuse, recycle' pyramid. This helps us to make decisions about product choice and waste management at Westonbirt. We will consider a product's whole life cycle from manufacturing and transport to length of use and the final disposal.

What we discovered
In March, Avieco spent a day sorting through all the bin waste at Westonbirt. It wasn't the nicest job but the results were important.

85% of waste from visitors is general waste i.e. landfill.

38% of the waste found in the general waste stream could have been recycled.

The "General Waste" largely consisted of sauce sachets, liquid, wooden cutlery and other non-recyclable plastics.

Dog waste makes up more than 30% of the general waste stream.
92% of waste in public areas is sent to an incinerator.

134,000 takeaway cups in 2019/20 (excluding events).
If modifications were made to Westonbirt's waste collection services, we think it would be possible to divert 73% of the waste produced in public areas from landfill.
In a single year we estimated our waste (excluding sewage) is about 84 tonnes of which:
- 2.4 tonnes are takeaway boxes
- 3 tonnes are coffee cups
- 0.6 tonnes are tissues and paper towels
Although the takeaway boxes and coffee cups are compostable they need an industrial digester which are few and far between in the UK.
The Westonbirt catering teams are working hard to find new takeaway products which are easy to recycle on-site.
Net-zero by 2030: Aiming to eliminate the use of fossil fuels (for heating and cooking).
Looking ahead
Using the full audit recommendations, we can now review and manage our waste to move us further towards our zero-waste goal.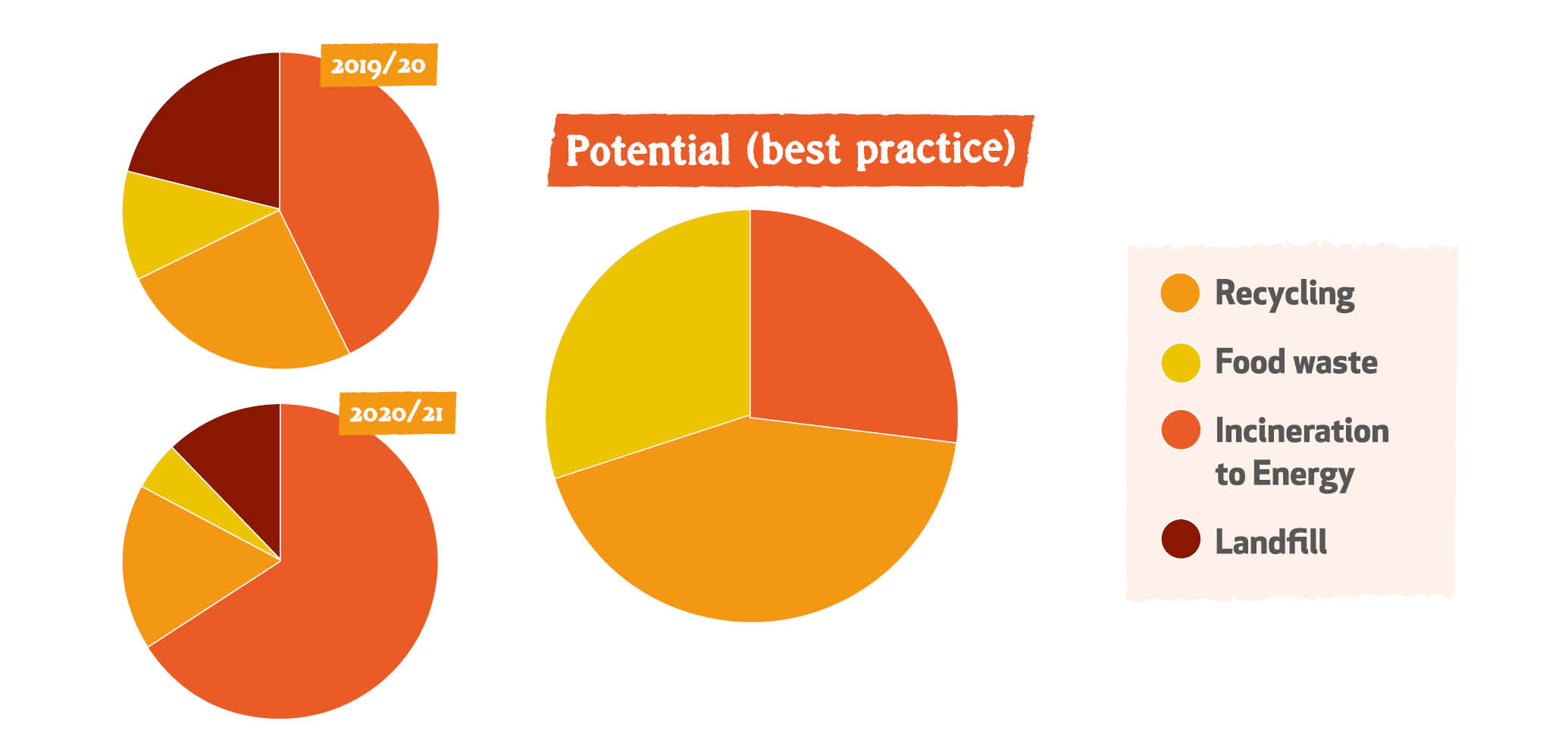 We are currently working through all the recommendations and reviewing Westonbirt's waste policy, which includes partnering with the right waste collectors, developing clearer bin and recycling systems and reducing the amount of landfill items onsite. Aiming to reduce all waste streams including recycling and food waste. We're looking at improving our general waste and recycling collection to improve transparency and data.
We need your help!
Choose the correct bin – lookout for signs to make the right choice.
How you can help us recycle at Westonbirt...

If you can't find the right bin – take it home.
Think – do I need this item? It's okay to say 'No thank you' to napkins and cutlery from the restaurant.

Napkins, sachets and paper towels cannot be recycled – fibres they contain are too small. Put these in general waste.

Use reusable items whenever you can.

If in doubt put the item in the general waste as recycling can be rejected if it contains more than 10% non-recyclable waste.
Remember to bring your reusable coffee cup with you next time you visit to get 30p off your hot drink.
FREE coffee grounds
Ask at the restaurant or coffee trailer by the Welcome Building for free coffee grounds to take home which can be used as fertilizer in your home garden.
Funding for the Waste and Energy Audit was awarded to Westonbirt by The National Heritage Lottery Fund and the Department for Digital, Culture, Media and Sport.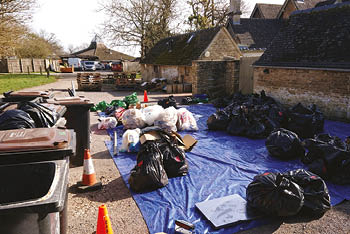 CATEGORIES