Learning About the Trees
---
Here's a quick round up of what's on offer, all of which were funded by the HLF money. Due to funding from the Friends, our community work will be continuing beyond the end of the HLF funding.
---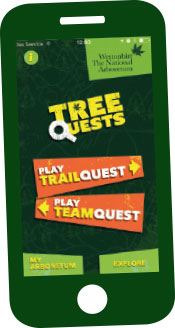 TreeQuests, our tree discovery app
TreeQuests is a great app that provides loads of information about the trees in a really fun way. It does exactly what it says, taking you on a quest to discover 50 trees across the site. You can opt for the basic 'explore' mode that automatically informs you when you've found one of the trees and tells you all about it. Or if you fancy the challenge, 'quest' mode introduces lots of challenges and rewards you with bronze, silver and gold medals.
The app is free to download via the App Store for iOS and Play store for Android.
---
Birt's I Spy Adventure for children

Birt's I Spy Adventure is a lovely activity booklet for children between three and six years old.

The booklet follows Birt, our resident wood chipper, to find out how the team look after the trees. There's lots of things to spot and fun activities to enjoy.
Pick up your free Birt's I Spy Adventure booklet at the Welcome Building, the Westonbirt Shop, the Tree Management Centre or download it at the Forestry Commission's website.
---
Picture Perfect trail
Our trees are carefully planted to create a picture perfect landscape.

Picture Perfect is a new trail that takes you around eight beautiful locations and uses a cut-out viewfinder to show how a professional photographer might frame the shot. It's ideal for visitors interested in photography, our heritage and seeing the landscaping with fresh eyes. Each location has a small panel giving information about the view.


Pick up the trail map from the Welcome Building and use the cut-out viewfinder as you follow the trail.
---
Little Book of Disappearing Trees
A handy pocket-sized booklet that looks at 40 tree species that have been assessed as at risk of extinction by the International Union for Conservation of Nature.

Find out about the threats they face, how we can help, and Westonbirt's role as a botanic collection. Each specimen has a white label to help you find them.
Pick up your copy from the Welcome Building.

---
Follow one of our trails when you're next here and get more from your visit.
---