A new home for the Tree Team: The Wolfson Tree Management Centre
---
The ground works have begun on what will become the new Wolfson Tree Management Centre. The new facility will provide all that Westonbirt's expert tree team needs to manage the tree collection.
The existing yard, tractor shed and 'mess room' are too small for the team.
The new Tree Management Centre will provide the Tree Team with a new yard and a new large machinery store. The new machinery store will include a series of large 'fire engine' type doors so the team can drive through the building to access the Old Arboretum to the north and Silk Wood to the south. This large store space will provide secure undercover storage for all of the machinery and tools used by the team.
The new yard will be over four times the size of the current yard. This space will be used for storing materials such as planting stakes and netting. A new environmentally friendly vehicle wash down facility has also been included in the design of the yard.
The contractors have been preparing the site by removing sub-soil and bringing in and compacting new stone. They have been levelling this area to ensure any rainfall falls correctly to the new drainage. The compacted stone will form a solid base for the drainage and subsequent concrete foundations.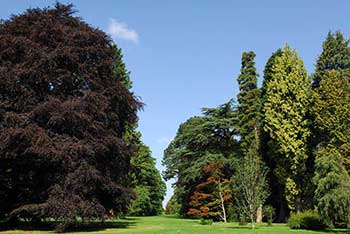 CATEGORIES