A True Winter Wonderland
---
I know that Ros (our webmeister) won't be around to upload this blog until after the New Year, but its Christmas Eve and I've a choice between a) Finally forcing myself to do 3 months worth of filing, b) Getting to grips with a new financial management system or c) Writing my next blog. Unsurprisingly c) has just won.
This has been the most magical of all possible first Christmases at Westonbirt. Forget all the plastic 'Winter Wonderland' experiences out there, forget even (dare I say it…) the very lovely Enchanted Christmas here, the snow has turned Westonbirt into the Real Thing. I've been arriving at my desk later and later every morning, as I've been held up, entranced, along crisp rides framed with delicate silhouettes and the occasional soft swoosh of powder settling. The ground has crunched happily underfoot, and I've appreciated the incredibly strange and stunning patterns that branches and trunks have made against the ground or the sky. The specialness of our trees, their planting and their structures really shouts out when the world is a black and white negative.
And best of all, there's been no-one else around. I think Westonbirt is more beautiful in the snow than at the height of its autumn colour, but it seems to be the best kept secret around.
---
It's been a challenging first few months, but to come to work here, for the last week, has made it all worth while. Not a bad way to close 2009.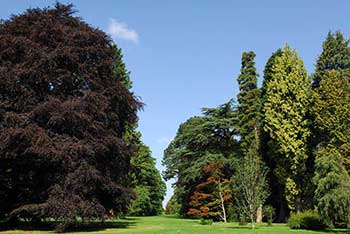 CATEGORIES