Our visit to Bedgebury Pinetum
---
Westonbirt Tree Team visit Bedgebury Pinetum
Early one morning at the start of July Westonbirt's Tree Team set off on a cross county journey to visit the Tree Team at Westonbirt's sister site; Bedgebury Pinetum. On arrival, we were greeted by the venerable Dan Luscombe; Bedgebury Collections Manager and Propagator, who told us some site history including how the great storm of 1987 played a substantial part in how Bedgebury looks today.
---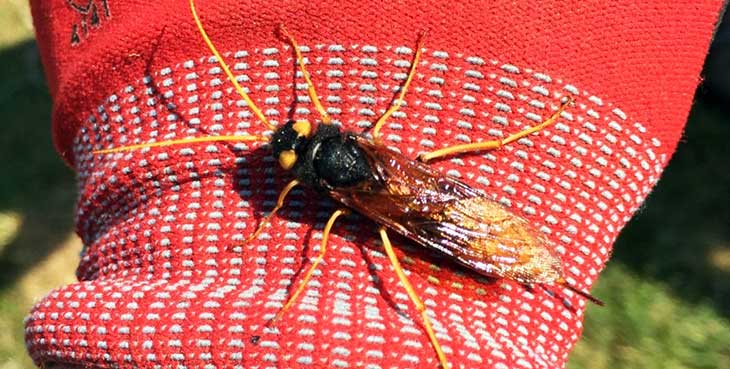 Making friends with the local wildlife; a Giant Wood Wasp Urocerus giga
---
Shortly after our introductions, we donned our work gear, filled our water bottles (it was shaping up to be another very hot day!) and set to work. Just like at Westonbirt the Bedgebury team were in the middle of unestablished work; checks on young trees planted in the last 3-5 years, so lots of weeding, mulching, some pruning and cage removing was the order of the day. The first 3-5 years are a very important time for young trees as they set their roots in the ground and adapt from life on the nursery to growing outdoors. Checks include noting what depth trees are planted, how established it's roots system is, vigour and overall health of the tree including if any pests or diseases are present, and if required formative pruning will be carried out.
---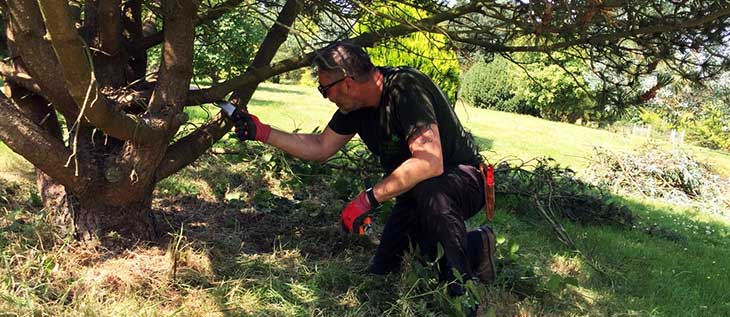 Mark Ballard pruning a Pine tree to improve mower access, which will control weed growth.
---
Following a productive day's work Dan invited us all to a barbecue in the sun with music and some well deserved chilled drinks. He cooked more than enough food for both our Tree Teams and we retired to the hotel hunger satisfied and thirst quenched. Most of the team stayed up to watch England play Colombia in the World Cup; a game with a nail biting penalty shoot-out finish which much to everyone's relief ended with England going through 4-3!
---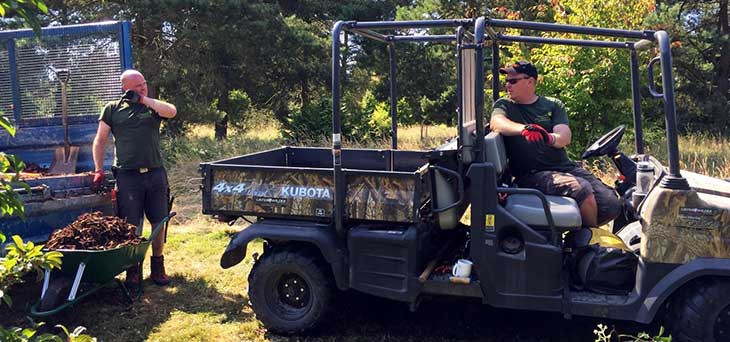 Andy Bryce and Andy Jane moving mulch
---
After a hearty breakfast the next morning, we returned for a couple of hours more unestablished work, finishing most of a long bank of young trees at the side of the lake near the visitor centre. I think everyone on both teams felt a real sense of achievement looking back on what we'd done. Dan then took us on a tour of Bedgebury; up past the Walled Garden, through Churchill Wood down past Marshall's Lake and back to the car park via Lady Mildred's Carriage Drive, which concluded our visit to Bedgebury.
---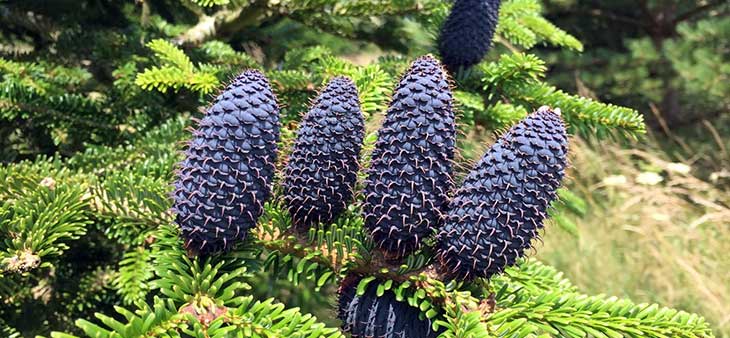 These impressive Abies fabri cones near Churchill Wood caught our attention.
---
Working trips like these not only offer extra man-power to complete labour intensive tasks, but provide an opportunity to build good working relationships, learn from sharing experiences, and catch up on what's new in a different part of the country.
We all enjoyed our visit to Bedgebury, I highly recommend visiting if you happen to be in that part of the country, and look forward to when our teams meet again.
You can visit Bedgebury Pinetum with your Friends of Westonbirt membership. Find out more about our reciprocal gardens.