Membership survey 2019
---
It is always fascinating to hear your thoughts and comments about being a Friend of Westonbirt Arboretum, and in September 2019 we invited members to complete our online membership survey.
Here are some of the key findings, which will assist shaping our future plans:
What you said about the membership scheme...


We are delighted to find out that 94.5% of the respondents agree or strongly agree that members are satisfied with membership scheme, with 99.5% agreeing or strongly agreeing that membership is good value!
Of the respondents, 81% agree or strongly agree that the more they visit the arboretum, the more likely they are to renew their membership
The Westonbirt magazine, Friend's eNews and social media channels are the main ways members find out what's happening at Westonbirt Arboretum. A third of respondents would prefer to receive the magazine by email as opposed to post.
When asked about the card policy, 99.7% agree that 'I am aware that I need to show my valid membership card to gain free entry' and 96% agree 'I accept that this policy is in place to protect the membership scheme's value'; however, 75% disagree 'I would prefer to pay a higher subscription for a recyclable plastic card'
What you do when you visit

Well over half of the respondents have followed the Seasonal Trail, and a third have followed the Themed Trails such as Zog and Gruffalo. It is great to hear that a growing number of members are now engaging with Active Forest activities such as the new running routes and the table tennis facilities, which were introduced last year.
It was interesting to hear that 40% of respondents visit the Westonbirt Restaurant each time they visit, however only 7.3% purchase from the Westonbirt Shop each visit. Two thirds of respondents sometimes or occasionally come into the Welcome Building.
A staggering 82% of respondents would like learn more about specific themes such as ' how to protect trees for the future', 'threats to trees – climate change / pests & diseases' as well as 'trees & wildlife'.
How members use additional benefits
Of the respondents, a third have visited the partner gardens with their membership – Batsford Arboretum being the most popular, followed by Kew Gardens - with three quarters of the respondents planning to visit partner gardens in the future.
The next most popular membership benefit is purchasing Enchanted Christmas half price Friday tickets, followed by Forest Live Earlybird tickets.
The most popular partner discount used by members is Cotswold Outdoor.
Just under 10% of respondents have taken advantage of bringing a friend on Member Tuesdays, purchased discounted tickets to Westonbirt Shopping Fair and visited Westonbirt House Gardens using their membership.


Fun fact: and… more visit with dogs than with children!
Congratulations to the lucky prize-winners Nicolas Lambert, Elisa Chant, Robert Bayston and Charlotte Feltham who received John Lewis vouchers. Happy shopping!
---
Thank you to all members who took part in our 2019 survey.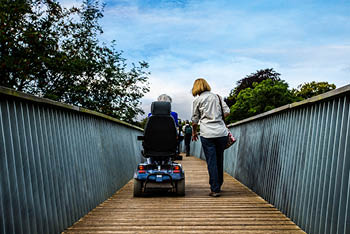 CATEGORIES