On to the next Project...
---
The Welcome Building has been open nearly two months now and is beginning to feel like it's always been here. We are continuing to make small tweaks here and there; some of you may have noticed the new arboretum map and Window on Westonbirt images.
Now that the majority of Phase One is complete we are moving full steam ahead with Phase Two, the Treetop Walkway and Tree Management Centre…
Behind the scenes the Project Team have been busy working with architects and the Tree Team to develop the plans for the two new buildings which form the Tree Management Centre. Work started back in April with meetings between the architects, engineers and the Tree Team to design a Tractor Shed and new Mess Building. We are now about to start work on the ground works which will form the new 'yard' and foundations for the Tractor Shed. Once complete work will begin on the unusual timber frame, using timber from Westonbirt and other local FC forests.
The detailed designs for the Treetop Walkway are also under way. Glenn Howells Architects and Buro Happold are currently detailing the handrail, balustrade (side panels) and the walkway legs.
---
Currently there are 60 legs in total for the Walkway, varying in length from just over 1 metre up to 12 metres!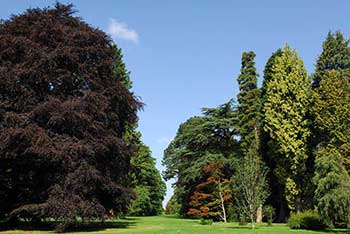 CATEGORIES