Still plenty of work to be done!
---
The opening ceremony for Phase Two may have now been and gone, but there is still plenty of ongoing work for the Westonbirt Project.
Those of you who are regular followers of the blog will remember that has numerous ongoing activities supported by the Heritage Lottery Fund. Aside from the community work, Downs restoration and various site-wide interpretation, the HLF are also supporting a large amount of boundary restoration.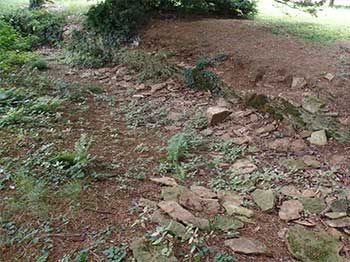 The next boundary that we are restoring is the dry stone Ha-Ha wall with iron railings that runs around the Downs. Ha-Ha walls are put in place to provide an uninterrupted view whilst creating a vertical barrier often to help contain livestock as this particular wall was originally. The name "Ha-Ha" derives from the unexpected (i.e., amusing) moment of discovery when, on approach, the vertical drop suddenly becomes visible. Fortunately, due to the iron railings attached to the Downs Ha-Ha, the drop is not quite as hidden!
The restoration process has now begun with the removal of the iron railings, and these will all be restored while our dry stone waller takes the lead and takes the wall down stone by stone, before building it back up to its former glory. The iron railings will then be reinstalled using an onsite forge.
The dry stone waller will be aided throughout by a number of our volunteers, who will be able to learn this specialised skill. At approx. 625 metres they will have plenty of practice, and the restoration process is expected to take around four months.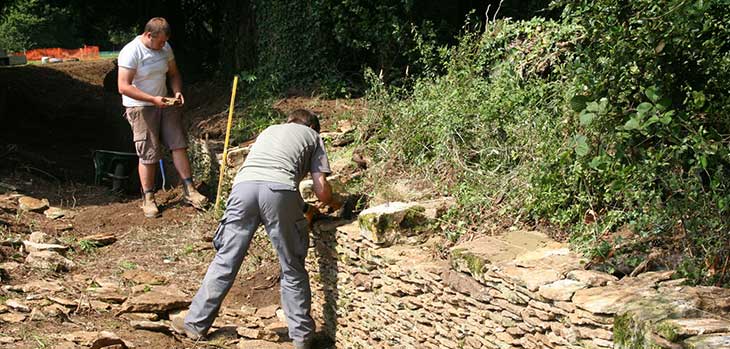 As the wall runs so close to the Dew pond which inhabits Great Crested Newts, and newts love dry stone walls, e.g. for hibernation, plans have been put into place to keep them from harm, and a newt license has been granted by Natural England for the works. We aim to coincide the works closest to the pond with the time at which the newts are most likely to be in the water.
For those of you visiting the site soon, you will be able to see this all unfolding, and if you look along Mitchell Drive, you will see a boundary of the same style which we previously restored in 2012.
Dan Reid, Project Support Officer