The problem
The last few years have seen the UK's trees under attack from at least 32 significant diseases and pests, including the devastating Chalara Ash Dieback. These threats are casting a very dark shadow over Westonbirt Arboretum. Within our vast collection of living specimens, over 100 different species are already classified as threatened and in need of conservation. We're facing a very real threat – and with ongoing climate change it's only going to get worse. We need to take steps now to protect our trees before it's too late.

What we're doing
Thanks to generous donations from our supporters we are able to build a Quarantine House in Westonbirt's Propagation Unit. This specialist facility will drastically boost our biosecurity, allowing us to isolate new plant material, such as seeds and young plants, and regularly check for signs of pests or disease. By checking their health, we can also apply the correct biological controls when required to handle any pests without the use of chemicals and pesticides.
Britain's natural heritage is characterised by a vast range of trees, shrubs and plants. With changing land use in the UK, little remains of Britain's native woodland. What we have left is unique, precious and endangered by the threat of non-native pests. The Quarantine House is vital to protect the living tree collection and historic landscape here at Westonbirt. The acquisition of new plants into the living collection at Westonbirt is crucial to the conservation and protection of rare and endangered trees in this botanical garden and will ensure that future generations are able to enjoy the arboretum.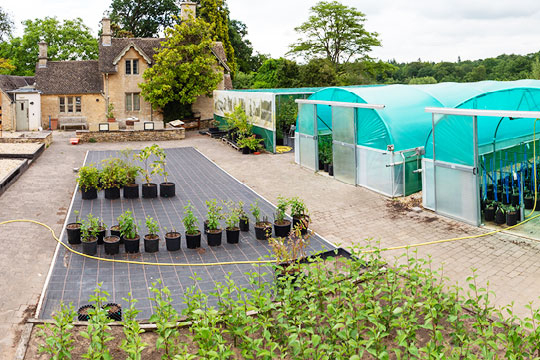 The majority of new plant material arrives as seed, often collected from the tree's natural habitat by way of our own authorised foreign seed collecting expeditions or an expedition undertaken by one of our many partner organisations. We have a critical role to play in sharing and exchanging surplus plants and seeds with other partner organisations, often where more plants have been grown than is required by a collection. All new plants and seeds will firstly be screened and scrupulously checked before given approval for planting. This way we can be sure that any new additions to the arboretum will be free from disease, pests and pathogens. Put simply, a Quarantine House will make our arboretum more resilient to disease.
Behind the scenes, the Tree Team monitor Westonbirt's trees through the routine maintenance and development of our collection; which requires meticulous record keeping across this ever-expanding and changing site. This important scientific research will form part of an international plant sentinel network. We share our findings with our national and international partner organisations, including the worrying first leap of Chalara Ash Dieback to non-ash species hosts within the arboretum. By sharing this knowledge we can better protect trees, woodlands and natural habitats across the world. The new Quarantine House is a much-needed addition to our work and will help us to safeguard the future of our trees.

Design
The Quarantine House will sit within the Propagation Unit on site. The structure itself has many different layers, each with a bespoke role to play.
- An outer poly-tunnel provides essential protection against the elements, a barrier to wind and water shielding an inner structure.
- The inner shade hall will be covered in aphid-proof netting and securely sealed to prevent pests attacking the young plants directly or carrying and transmitting disease to them.
- The external entrance into the inner central compartment and, the internal entrances to the quarantine bays on either side, will have sealable double doors, effectively isolating the compartments from one another.
- Within the central compartment/corridor, there will be a disinfectant trough and mat with footwear dedicated for sole use within the quarantine bays, together with storage for nursery equipment.
- Each bay will have running water with a sink and drainage. The floor of the quarantine bays will be gently sloped to a central drainage point, leading to an underground water collection tank, preventing potentially contaminated water from seeping into the surrounding area.
- The quarantine bays will each have fixed waist-high roll-top benches and a lower bench for differing sized plants.
- Internally, lighting and electrical sockets will be fitted to include a fridge within each bay to help replicate germination conditions for certain tree species. In addition to electric fans positioned to increase air circulation.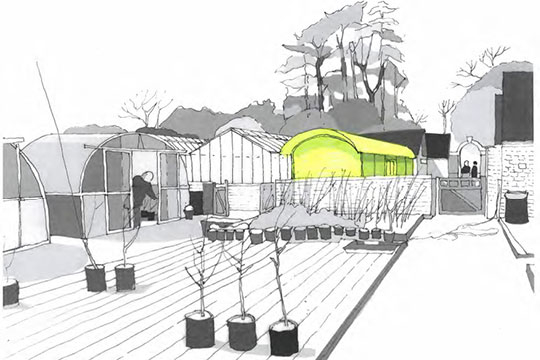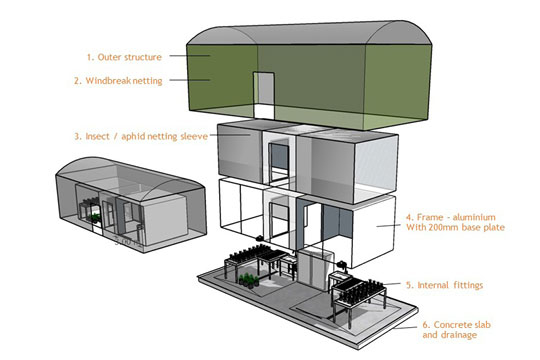 Build
The contractors arrived on site on Monday 22 November and the groundworks have now commenced. The installation of the main structure itself is anticipated to progress quickly and the team have completed a dry run at their workshop. The internal fitting-out of the structure will take place in the New Year with the Quarantine House being fully operational by spring 2022.
Watch the Quarantine House speedbuild video:
Donor Appreciation
Your gift has made a huge difference to our project - thank you.
Banister Charitable Trust
Finnis Scott Foundation
Foxley Road Nurseries
Stanley Smith (UK) Horticultural Trust
N R Aker
Graham Allnatt
Thomas P Ashenden
Jenny A Barnett
Jennifer Best
Sally Bexton
Rob Bick
Joanna Borrett
Janet K Bowers-Broadbent
Sue E Bradley-Jones
Muriel K Brooke
Thomas N Brown
Angela R Buckell
Robin Campbell
Roy F Carey
Peter J Carpenter
Margaret Cheese
Carol Clarke
David Clarke
Deborah H Clogg
Christine M Cole
Jo Cox
Cathelijne Cuellar
Keith D Cuthbert
Jacqueline Dalton
Patricia Davies
Diana P Davies
Brian Dejean
Vivien M Donkersley
Jim Druett
Janet Duffy
Mary Durell
Janice Eades
Nigel J Edwards
James Edwards
Shirley Elder
Andrew Evans
Keith Faraday
Geoffrey Fitch
Alison Flint
Dee Gardner
Alan Garner
Paul Gibson
Susan Grazebrook
Clive Greaves
Neil Grecian
Martin J Green
Arthur J Gregory
Edward Greves
Robert J Harding
Roland L Harley
Evelyn Harlow
Muriel Harrison
Ian J Harvey
Carollyne Haynes
Margaret B Headen
Brian Heath
Rachel C Hemming
John Hobday
Maureen Horscroft
Andrew J Howe
J N Hughes
Alan Hunt
Mark R Ingram
Clive Jefferies
Pamela Kellett
Alan R Kempton
John E Kendall
Jane L Kimpton
Jeffrey Lacey
Michael J Latham
M Leggett
Rosemary Levett
Joan Lilly
Margaret E Lloyd
Jinny J Marshall
Karen H McKeown
Eileen Menzies
Christine Menzies
Susan Middleton
Stephen R Montgomery
D Moray
Allan Peter P Moss
Tim J Mugford
Margaret Muttram
Janet Newby
David Penn
Grace Pownall
Ian Rea
Gillian M Rodger
Lesley Rossiter
Margaret Ruskin
James Scott
Peter Scott
Peter Seaborne
Richard M Shaw
Pippa J Smith
Andrew Smith
Stephen Spooner
Andy Strong
David R Swinson
Sue E Symonds
Barbara Tagholm
Harriet R Tupper
Alan J Turk
Ian Unsworth
Richard Waldram
Eliot Walker
Patricia A Walker
Eve White
With thanks once again to all our generous supporters who have helped to fund this much needed resource for the Arboretum. If you would like to help support our ongoing Conservation, Education and Participation work, please consider making a donation today.