Funders
We're so grateful to all individuals, trusts and organisations who supported the Westonbirt Project.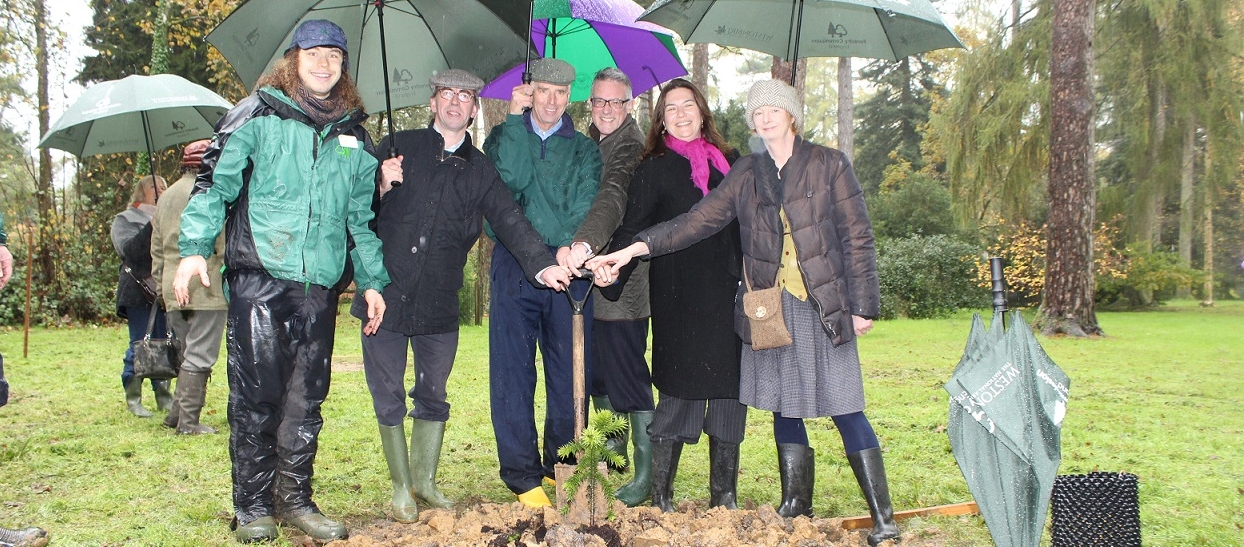 This project was hugely significant to the development of the arboretum's internationally important landscape and tree collection. We know that for many of our individual supporters this is the largest gift you've ever made to a charity, and we're so thankful that you chose to help us.
In total we raised £6.7 million to deliver The Westonbirt Project - we would never have achieved this without you.
Your gifts and pledges are making a difference to hundreds of thousands of Westonbirt visitors every year. Thank you!
---
Phase One

The downs restoration, Biffa Award Welcome Building & Community Project

---

Phase Two

The STIHL Treetop Walkway & Wolfson Tree Management Centre

---

Individuals


Camilla Acloque
Jenny Alcock
Mr & Mrs J Avery
Mr & Mrs J Barstow
Peter & Julia Barton
Robert & Alison Bernays
Mr & Mrs P Bishop
Toby & Jennifer Blackwell
William & Jacqueline Boffin
Anthony Bosanquet
Sue Bradley-Jones
John Bradshaw
Jack & Eileen Brunsdon
Ronald & Kathleen Bullen
Jonathan Carr
Ken & Angela Carruthers
Deborah Clogg
Giles & Sonia Coode-Adams
Betty Cook
Jim & Betty Cook
Mr & Mrs J Cramer
Charles & Mary Drown
Henry Elwes
David & Jill Evans
David Ewins
Mr & Mrs G Fleetwood
Ninette Flowerdew
Christine Fraser
Doreen Gardner
Mr & Mrs J Goodwin
Mr & Mrs C Greaves
Martin & Jane Green
Janet Greenman
Mr & Mrs J Gregson
Eileen Grist
John & Shirley Hammill
John Hammond
Mr & Mrs M Hampton
Edward & Rosie Harford
Mr & Mrs R Harley
Margaret Headen
Mr & Mrs KHF Healy
Michael Heathcoat-Amory
Robin Herbert
Peter Higginbotham
Steve Hogsdon& Kathy Kennedy
Clare Homfray
Julian & Eileen Horn-Smith
Viv & Jan Howard
James Howarth
Andrew & Joanna Howe
Raef Johnson
Conrad Jones
Mr & Mrs B Jones
John & Ann Kendall
Henry Keswick
Malcolm & Gladys King
Rosemary Levett
Barbara Luscombe
Sean & Kena Magee
Mrs N Matthews and Ms J Terry
Antonia Mills
Gwyn & Muriel Morris
Barrie & Carol Nash
Brian and Jenny O'Donnell
Gillian Oldfield
Mr & Mrs C Oliver
Michael & Elizabeth Parlett
John & Caroline Penley
Malcolm Potter
Simon Preston
Hugh Purkess
Daphne Reason
Merci Rebati
Patricia Reynolds
Henry Robinson
Christopher Sanders
Annabella Scott
Stephen Segar
John & Geraldine Shepherd
Sheila Shipton
Pippa & Rod Smith
Diana Swales
Sue Symonds
Valerie Taylor
Stephen & Diana Thomas
Colin & Karen Thornton
Simon Toomer
Canon & Mrs M Tucker
Alan Tuckett
Mr & Mrs R Tudor
Paul Vaight
Mary Waite
Miss P Walker
Dr & Mrs M J Watson
Jackie Webb
Mike & Rosemary Westgate
Tom Wilkes
Sheila Williams
Neil & Margaret Willis
Tom & Elaine Wills
Ian & Janet Wilson
Elizabeth Winfield
Stephanie Wray
Peter Young



Trusts & Foundations


29th May 1961 Charitable Trust
Ammco Charitable Trust
Awards for All
Backhouse Foundation
Biffa Award
Charles Saunders Food Services
CHK Charities Ltd
Clark Bradbury Charitable Trust
Constance Travis Charitable Trust
Dr Mortimer & Theresa Sackler Foundation
Dulverton Trust
Ernest Cook Trust
Frognal Trust
Garfield Weston Foundation
George Cadbury Charitable Trust
Gloucestershire Environmental Trust
Heritage Lottery Fund
Houghton Dunne Charitable Trust
J & M Britton Charitable Trust
J Paul Getty Jnr Charitable Trust
Kirby Laing Foundation
Lennox & Wyfold Foundation
Medlock Charitable Trust
Philip Smith's Charitable Trust
Richard Cadbury Charitable Trust
Rofeh Trust
Samuel Storey Family Charitable Trust
Schroder Charitable Trust
Summerfield Trust
Swire Charitable Trust
TF Stevenson deceased Will Trust
The Rothschild Foundation
The Trust Partnership















Individuals


Hugh and Clare Alexander-Jupp
Claire and Mark Allen
Elva and Eric
Richard and Diana Allez
Stuart Anderson
David and Fran Andrews
John and Kyrle Arscott
Lesley and Charles Ashley
Richard Atkinson
Helen and Renee Baker
Tony and Jennifer Barrett
Edward and Merle Bathe-Taylor
Peter Bernau
David and Sandra Bidder
Chris and Boo Brace
Jane Brinkworth
David and Mary Broad
Roger and Tricia Broley
Thomas Brown and Peggy Brown
Harriet, Oswell, Frederick Bury
Philip and Irene Butler
Amanda and Simon Cairns
Tricia and Geoff Callow
Miss Audrey Child
Desmond and Beryl Clark
Giles and Sonia Coode-Adams
Betty Cook
Graham and Val Cooper
Jilly Cooper
Keith and Christine Cooper
Terry and Yvonne Cornelius
Alistair and Peggy Craig
Kim and Jackie Daniels
Chloe Darling
Jacob, Amelia and Jack D'Cruze Howarth
Keith Ebbutt
Mr and Mrs RJ Elder
Alan Elkan
Richard and Christine Evans
David Ewins
David Field
Mr and Mrs D Field
Stephen and Sophia Fitzpatrick
Jenny Flake
Ninette Flowerdew
Rod and Barbara Gallacher
Bobby and Jane Gibbs
Roger Gilmour and Brenda Forbes
Brian and Jean Gornall
John and Audrey Green
Edward and Barbara Greves
Eileen Grist
Sylvia and Graham Guest
Robert and Elisabeth Harding
Celia and David Hargrave
Bryan and Meta Harris
Charlie Harrison
David and Maureen Harvey
Margaret Headen
Bob and Janet Heaney
Adrian and Vanessa Herring
Tony and Diana Hicks
in memory of Linda Hill
Anthony and Frances Houghton
Brian and Kathleen Howard
Mike and Gillian Howarth
Jonathan and Ruth Hulbert
Jeffrey and Brenda Hurley
Interior Surface Solutions
Sue Jackson
Sarah and Jeremy Jackson
Derrick and Marilyn Jeans
Victoria and Andrew Johnson
Bryan and Geraldine Jones
Conrad Jones
Gwynfor, Julie and Dylan Jones
Graham and Jean Kaye
Kathy Kennedy and Steve Hogsdon
Julia Leyden
John and Joan Lilly
Peter and Ann Lisle-Taylor
Mr R Lloyd
Judith and Barry Marsh
Ewan and Moira McCall
Sir Michael and Lady McWilliam
Marilyn and John Miles
Ken and Louise Mill
Stephen and Ann Montgomery
John and Kay Morrell
Richard Mullings
Eric and Christine Neal
Geoff and Rose Parker
William and Pam Parker
Mr M Parkyn
Richard and Victoria Paul
Maggie and Andy Pedder
Kate Prentice
Mollie and Harry Raiss
Mike and April Read
Elwyn and Christine Roberts
Ian and Lynne Robinson
Leonora Rozee
Rita Schwartz
Stephen Segar
David and Carol Self
Gillian Slater
Frances and Paul Smith
Rod and Pippa Smith
Mary Jane Steer
Andy and Maria Strong
Antonia Tackaberry-West
Graham and Anne Taylor
Paul and Sue Trevithick
Harriet Tupper
Roger, Emma, Alice and Sophie Turner
Miss P Walker
Peter and Helen Walker
Richard and Liz Warrillow
Ken and Terri White
Geoff and Wendy Witherden
Paul and Betty Young



Trusts & Foundations


Chapman Charitable Trust
CHK Charities Ltd
CLA Charitable Trust
Clark Bradbury Charitable Trust
D G Albright Charitable Trust
David Uri Memorial Trust
Garfield Weston Foundation
Houghton Dunn Charitable Trust
John Coates Charitable Trust
Lord Barnby's Foundation
Medlock Charitable Trust
P F Charitable Trust
Speller Metcalfe South West
STIHL
The Gloucestershire Environmental Trust
The John S Cohen Foundation
The Kirby Laing Foundation
The Rothschild Foundation
The Rowlands Trust
The Sackler Trust
The Steel Charitable Trust
The Wolfson Foundation